Pattaya Bus Stations are a point of space to which most tourists who prefer to travel on their own in Thailand seek. However, only the one on Pattaya North Road is a full-fledged bus station. The others, even if not only micro, but also full-size buses depart from them, are peripheral bus stations, the entire infrastructure of which is limited to a cash register and a waiting room (this is at best). However, the status is not the main thing, they perform their duties properly, you can be sure that you will go where you need and in accordance with the schedule.
How to buy bus tickets
.
If you want to travel around Thailand from one of the following bus stations in Pattaya, you have two ways to book bus tickets – at the bus station ticket office or at the Thai service 12Go.Asia, the technology of which we have already described here. In the second case, you don't have to spend time on your way to the ticket office to buy a ticket, because in high season it is advisable to buy them in advance.
Nakhon Chai Bus Station in Pattaya
.
Nakhon Chai Bus Station in Pattaya is a small bus station. For Russian speakers its name sounds very ambiguous and is the reason for jokes. It is situated in a hundred meters from the intersection of Central Pattaya Street and Sukhumvit Road – when you reach it, cross it and turn right. It's a big gable-roofed awning, with a waiting pavilion and ticket office at the back.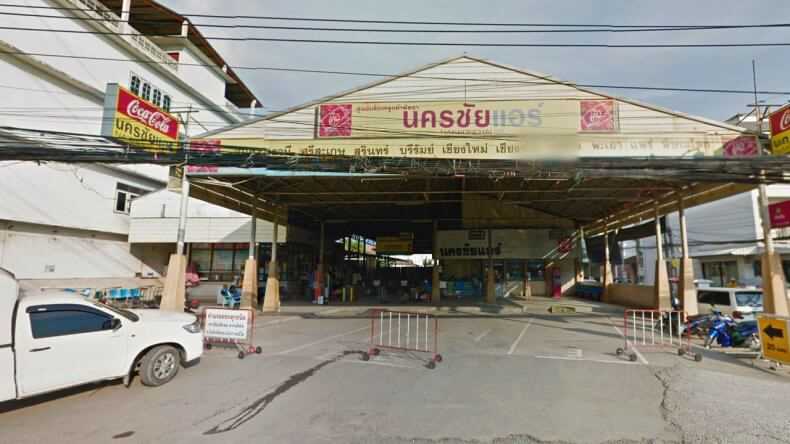 This is the best departure point if you intend to visit Northern Thailand, cities such as Chiang Mai and Chiang Rai, Mai Sai, Ubon and Rayong. You can get to the border with Laos. Or, conversely, go towards the southern border, to Cambodia. For example, to Trat to take a steam to the island Ko Chang or Ko Samet (read more how to get from Pattaya to Ko Chang).
The bus station on Thappraya Road in Pattaya
.
The Thappraya Bus Station in Pattaya is located at the intersection of Thepprasit and Thappraya Road. The landmark is the hotel tower Pattaya Park, but the bus platform is between the Government Saving Bank buildings and the Food Mart supermarket. If there are no buses, it's pretty hard to spot. But it's like with the proverbial gopher – you don't see it, but it's there. There are benches for waiting for transportation both inside and outside the pavilion. You'll also find a free floor scale there if you want to know the weight of your luggage.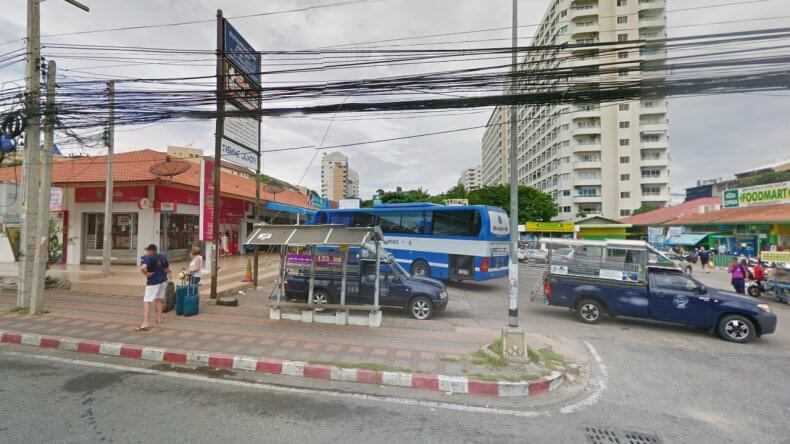 Nua Bus Station in Pattaya
The North, and main bus station in Pattaya, located on North Pattaya Road (Naklua district), about three hundred meters from where it intersects with Sukhumvit Road. From its platforms, buses go to all three bus stations in Bangkok, stop for transit flights to Samui, as well as those going to the border with Cambodia. There are several flights to Suvarnabhumi Airport during the day. However, the North Bus Station in Pattaya is not too convenient for those who have settled, for example, at Jomtien – the distance between them is about seven kilometers.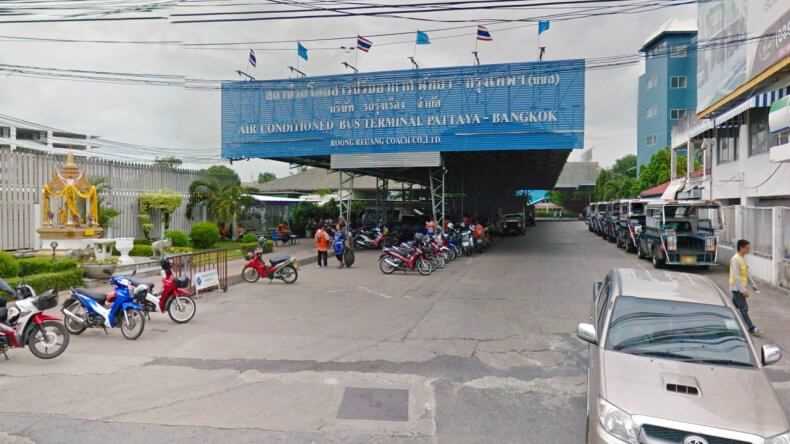 How to get to the North Bus Station?
Many tourists wonder how to get to the North Bus Station in Pattaya, still this point of departure inspires them more confidence than others. The easiest way to do this is by calling taxi to the hotel, for which ask the receptionist at the reception. Or go outside and ask the driver of a songteo, a passenger pickup with a covered body with two benches on the sides. The local bomber usually sleeps on these benches. They are good psychologists and if you are in a hurry, they ask for the full 300 baht. However, the red price for such a trip is not more than a hundred and twenty. So bargain.
If your luggage is limited to a cosmetic bag, it is possible to take a motorcycle taxi, the number of which on the streets of Pattaya can not be counted. With him you can get to the bus station for 100 baht, and with some psychological pressure for fifty.
If you live in Jomtien and trust only municipal transport, get out on Thap Praya Road or along Theprasit Street to Sukhumvit Road. There are sungteos there that you have to wave your hand to stop. By some misunderstanding this form of transport tourists call a tuk-tuk, although this term is more correct to call a scooter with a body. However, the natives have adapted and are well aware of what they are asked farangs. The city's main transit highway is lined with white cars. To get off at the intersection with North Pattaya Road, press the red button on the handrail under the roof. The trip will cost twenty baht.
The ride from the bus station to the peripheral areas is less problematic. Songteos are constantly on duty there. It will take you to Walkin Street for 20 baht, and to Jomtien for 30 baht. They don't go up Pratamnak Hill, but you can ask the driver to drop off somewhere nearby by pressing a button on the handrail. For example, at the intersection with Pratamnak Street (the southern entrance to the neighborhood).
Read More: