Edem, or the Garden of Eden, can be seen in Thailand more or less as depicted in European religious mythology. To do this you must visit Nong Nooch Park, located seventeen kilometers from Pattaya. This is a really beautiful place, which includes a complex of gardens and theme parks, spread over an area of 240 hectares. It is on the so called "must see" list without which a trip to Thailand would not be complete without a visit.
The park is open all year round and each season has its own unique beauty and attraction. A variety of positive experiences await you when you visit. It allows photography and videotaping (read more about how to take pictures when traveling), so you can keep the memories of your trip in a fairy tale.
Whimsical Asia in symbiosis with Europe
Nong Nooch Tropical Park in Pattaya is a man-made landscape project that blends European and traditional Thai styles. Sculptural images of mythical demons from folk epics, stylized peasant cottages and ornate pavilions are juxtaposed with the austere French park, where regular flower beds are laid out, every bush is pruned, and the alleys are drawn to line up.
insects from all continents. For example, African giraffes, European deer, flamingos… It is a Thai tradition that in the park must be ponds with goldfish, fountains, pavilions hidden in the thick greenery, where you can just relax serenely.
Gardens and Parks
★★★★★
The Orchid Garden at Nong Nooch This is a special pride of the park's organizers. It showcases all the richness and variety of this species of exotic plants, considered to be the most beautiful on earth. Tourists are amazed by the riot of colors, whimsical shapes, and unique palette of scents.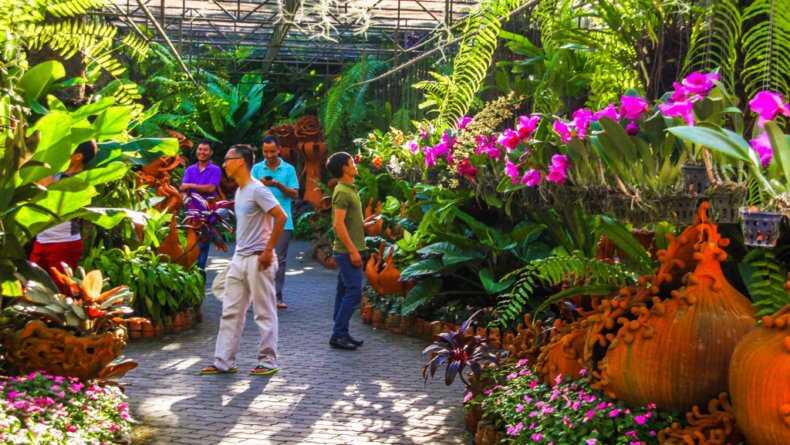 ★★★★
The Cactus Garden For Thailand, with its constant humidity, this plant is quite unusual. All the more interesting to visit a place where these prickly creatures grow not surrounded by sand but by lush vegetation. In this garden you can see cacti of all possible sizes and shapes, and their flowers are as beautiful as orchids.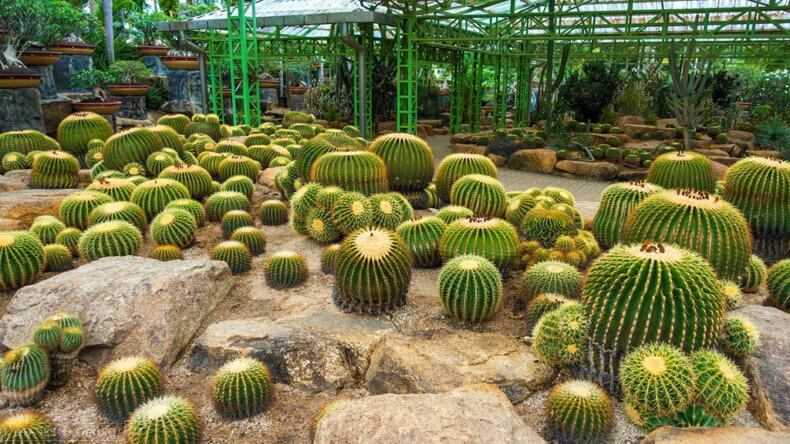 ★★★★
The Blue Garden. It is dedicated to the oldest plant on Earth, the fern, and the palm tree, the most common in Southeast Asia. In it you can see 1100 varieties of palm trees, almost half of all that exist on our planet. You won't find such a rich collection anywhere else but at Nong Nooch.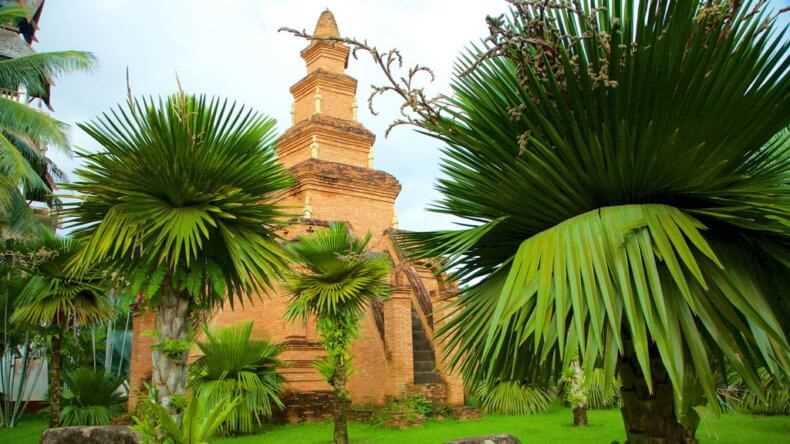 ★★★★
French Nong Nooch Park It would be approved by the landscape designers of Versailles. Surrounded by exotic palms and intricately shaped rocks, it's an unusual mix of European and Thai traditions. The austere alleys and trimmed curtain walls blend beautifully with small Thai-style architectural forms and Buddhist temples.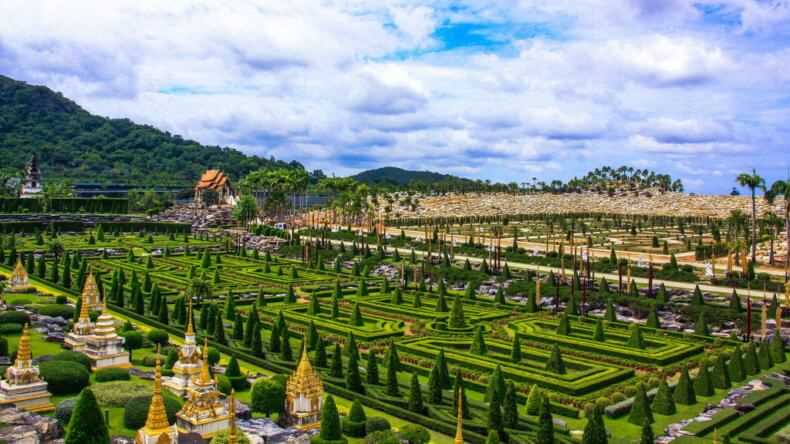 ★★★★
The Butterfly Garden Pattaya's Nong Nooch Tropical Garden would have lost a lot without this huge enclosure enclosed by fine mesh. Bright butterflies, like flowers, flutter over the heads of tourists.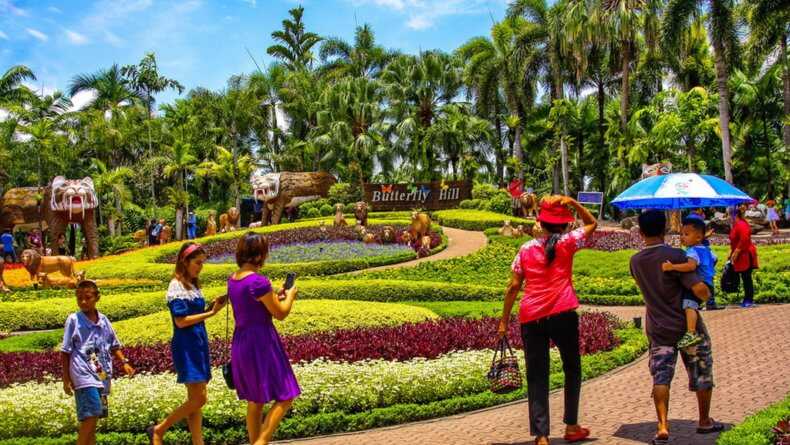 ★★★★
Bird Garden The tropical forest in our minds is full of beautiful birds and their mesmerizing singing. Not to break this stereotype, garden planners have put the most colorful and recognizable members of the feathered family in this section of the park. When you enter the pavilion, don't forget to buy treats for them and don't be frightened when they land on your head.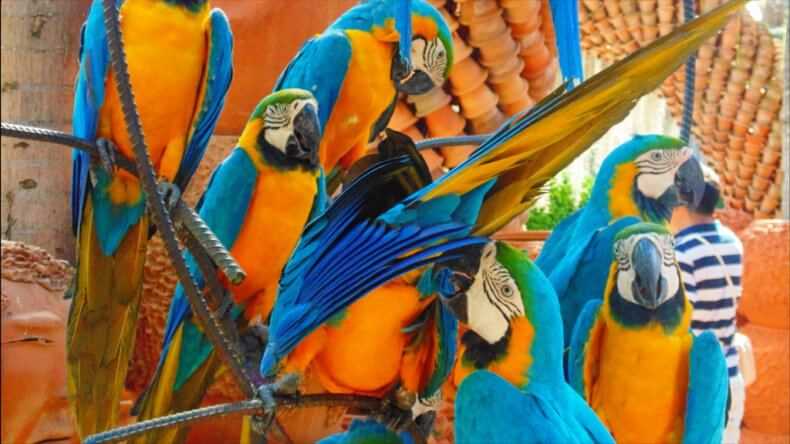 ★★★★
Stonehenge. Yes, a scaled-down replica of this ancient megalithic structure is here too. Although in Southeast Asian countries, such lure for tourists has become quite commonplace.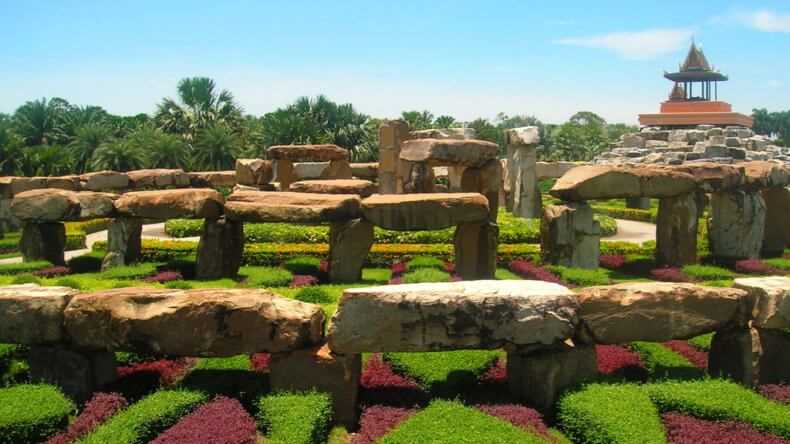 ★★★★
Pot Garden Once you visit this spot in the park, you'll get a visual lesson in how you can use this utilitarian household item to create small architectural forms. Elephants and monkeys, Viking ships and cars, gazebos and insects are all made from fired clay.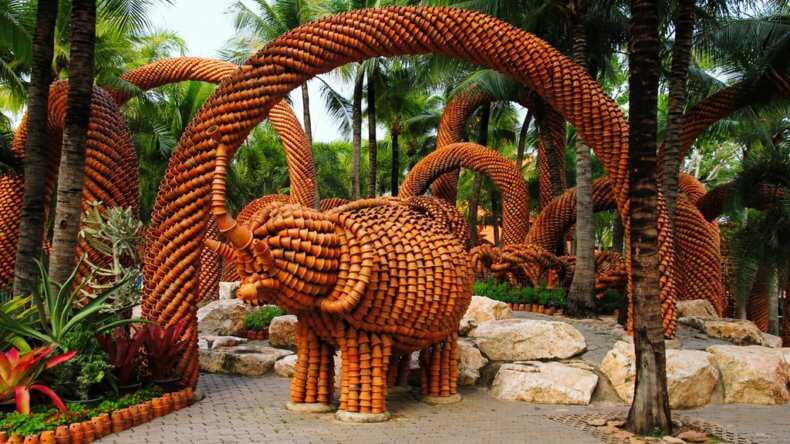 ★★★★
Fish Pond Did you dream of catching a huge fish as a child? You can do it here. The small pond is stocked with arapaimas, freshwater giants up to three meters long. For a few baht you will be sold bait – small fish. Serve it on a stick and try not to be frightened to death when it disappears into the huge mouth.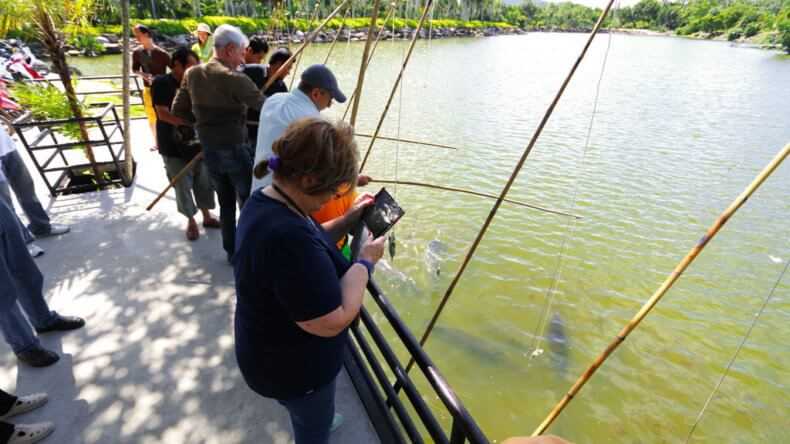 ★★★★
Interactive Zoo. Nong Nooch Garden is worth a visit for those vacationing in Pattaya with children. A fun activity for them will be a place where you can interact with piglets, donkeys, monkeys and camels. All of them can be fed. The treats are sold by enterprising Thai teenagers. There is also an enclosure with tigers in the zoo, but you can only watch them from a distance.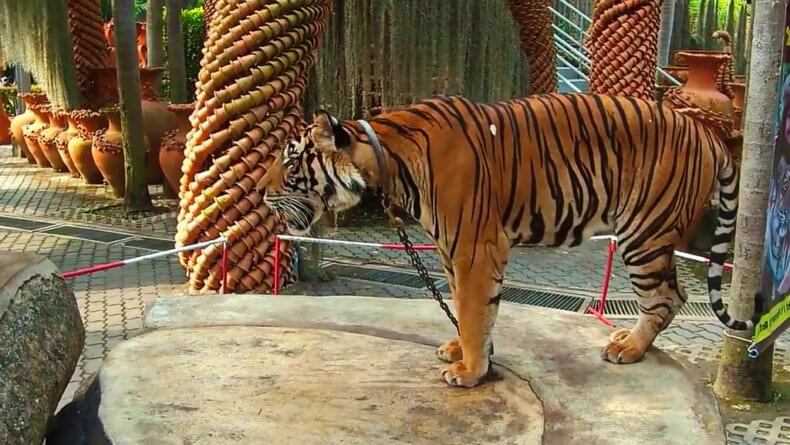 ★★★★
Garage. It contains the park director's cars. Forty exclusive examples of sports cars, SUVs and automotive rarities.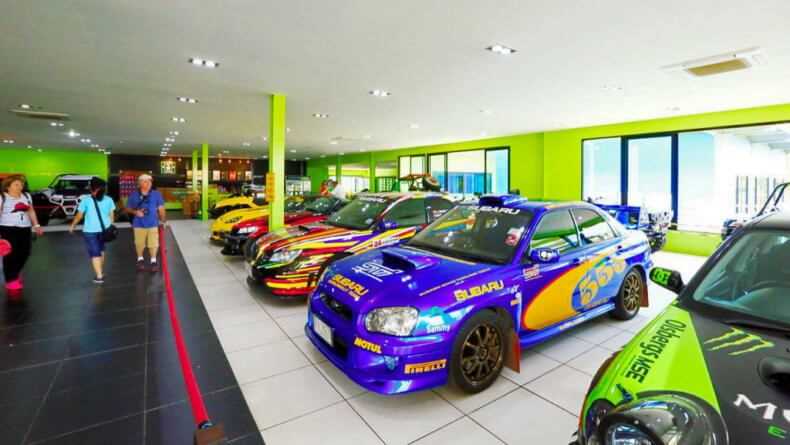 The gardens listed above are not all of them. Their collection at Nong Nooch is constantly expanding, which can be viewed at the park's official website – nongnoochtropicalgarden.com
Show programs
There are two colorful and entertaining shows for visitors to the park, which you must pay for by purchasing your admission ticket. They're on all day long, so you're sure to catch a show while you're there.
Thai traditions and customs
A vibrant theatrical performance with many artists, decorations and national props. Takes place in a pavilion with an auditorium and a stage. You will be introduced to Thai customs and traditions, history and culture of the country. Dance and music numbers alternate with historical dramas and even rounds of Thai boxing.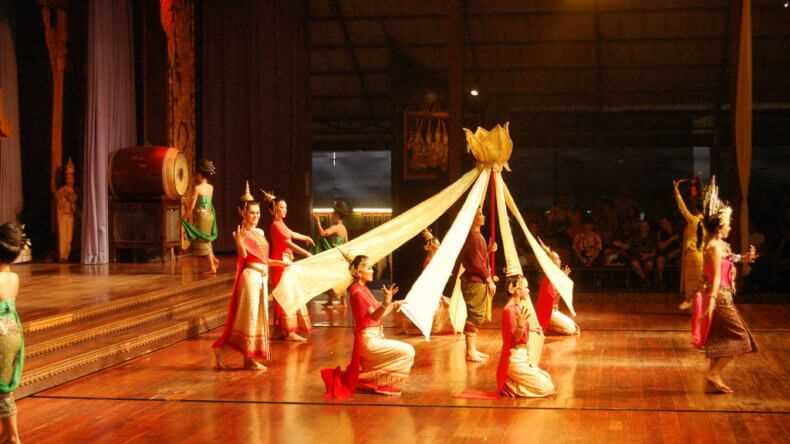 Elephant show
The Elephant Show at Nong Nooch Park is one of the most interesting entertainment of its kind in Thailand. Elephants not only perform various tricks – riding bicycles, drawing pictures, throwing darts at inflatable balls, but also communicate with the audience. For example, they massage all comers with their trunk. Unfortunately, the host comments everything in English and gets in the way, because everything is clear without words.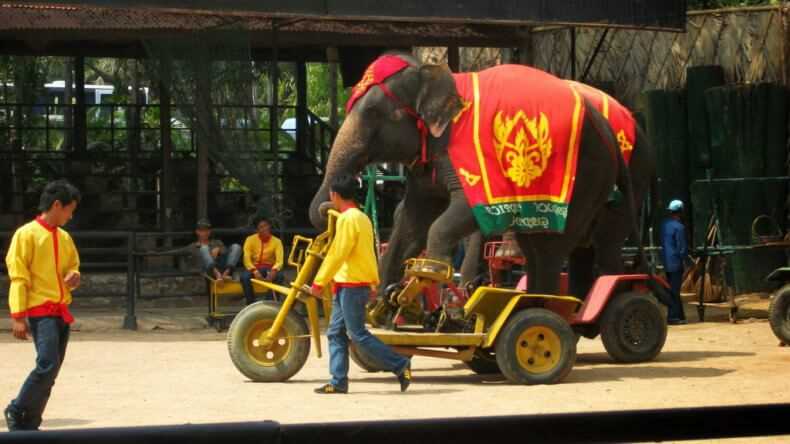 Excursions
Excursions to Nong Nooch Park are organized by street travel agencies, of which there are many in Pattaya. They are available as day tours from 8:00 am to 2:00 pm and from 1:30 pm to 6:00 pm as well as evening tours which start at 1:00 pm and end at 8:00 pm.
The excursion to Nong Nuch Evening Park is complete with a romantic dinner and the launching of Chinese lanterns into the night sky. It is entertainment for adults as the theatrical performance contains numbers from the drag queen show.
The price of a ticket to Nong Nooch Park depends on many factors. Day tours for adults cost 650 baht and 450 baht for children 90-120 cm tall, below 90 cm are free. The price includes transportation, guide services, theater performance and elephant show. The evening ticket is three times more expensive: 1800 per adult and 1100 per child (ticket prices may change over time, see official site).
Unorganized tourists are charged a minimum of 800 baht to enter during the day. But if you have a Thai license, a visit to the park will cost 250 baht. However, Pharangs usually do not have them, and it is not customary to talk about racial discrimination in Thailand.
How to get there on your own
The most common question, "How to get to Nong Nooch Park," comes from those who are not particularly upset by the half price of a visit. Here are 3 ways to get to the garden from Pattaya.
Taxi. From Pattaya, you can get there by taxi, and you can haggle all you want with the driver because the park administration will pay him a reward for each visitor he brings.
Songteo. If you manage to get on the Sukhumvit highway, catch a white sunteo (shuttle, passenger pickup) that will take you to the park turn for a nominal fee. From the crossroads, walk southeast for about two kilometers, the landmark will be the Suan Nong Rut train station.
Car. By rented car you have to go south to the village of Tongstit, then turn left.
It's quite difficult to go from Bangkok to Nong Nooch on your own. A cab ride will cost from 1100 to 1500 baht, and the question of who to pay for the passage through the paid sections, you need to decide with the driver in advance. There are no buses from the capital to this particular park.
You have to go as far as Pattaya and navigate there. Minivans go there every hour from the Terrestrial subway station BTS Victory Monument. Regular buses leave from Ekkamai Bus Station once every three hours.
Read More: