The small resort town of Hua Hin, the administrative center of the municipality of the same name, is small in size. Its native population is about 90,000 people. But for Thai people it is a sacred place, because Rama VI – the King of Siam – chose it to build his summer residence of teak wood, where you can relax away from worries. This proximity to the monarchs is reflected in the city's lifestyle, which is more austere compared to Phuket or Bangkok. Shopping in Hua Hin does not lead to a state of euphoria, but in the stores, and especially in the markets, "royal resort" you can buy a lot of interesting and even unique things. What to buy in Hua Hin that do not have in the rest of Thailand? For example, brightly colored decorative pads, bags, stoles, neckerchiefs made from printed cotton in small local workshops.
Shops in Hua Hin have the gradation familiar to Europeans. There are large shopping centers (malls) where several brand-name retailers are gathered under one roof. There are also hypermarkets, as well as specialized stores and markets. Lots of room for shopping!
.
Malls
.
The shopping area we are used to using this term in Hua Hin has only one, the Market Village, located on Petchkasem Road, almost in the center of the resort. The first floor is fully occupied by the Tesco Lotus hypermarket, a chain retailer distributed throughout Thailand. There is a small pharmacy department. The second and third floors are occupied by expensive boutiques of brands Timberland, Lacoste, Wrangler, Li. There are also shoes, toys, jewelry, perfumes, electronics. The shopping can be alternated with a visit to a restaurant, bowling alley, cinema.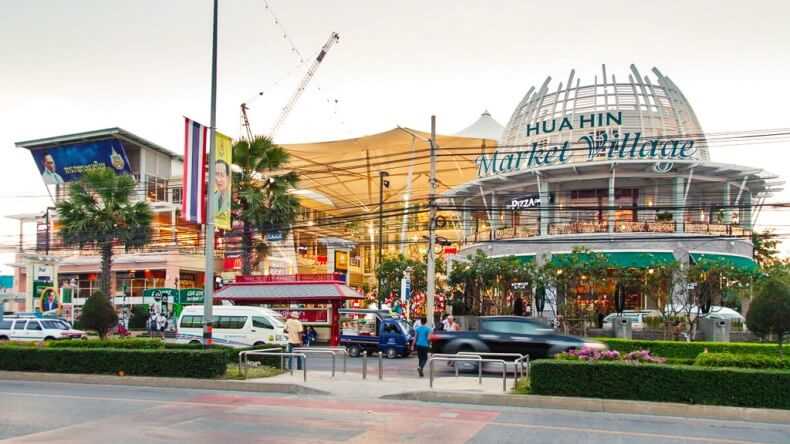 Colonnade Mall, located on Kamnoadvitee road, is inferior in size. It specializes in the sale of clothing and footwear of famous brands. In principle, it can be considered an outlet – trade there is almost always at significant discounts. Another outlet of this format, Premium Outlet, is located outside the city, in the town of Cha Am.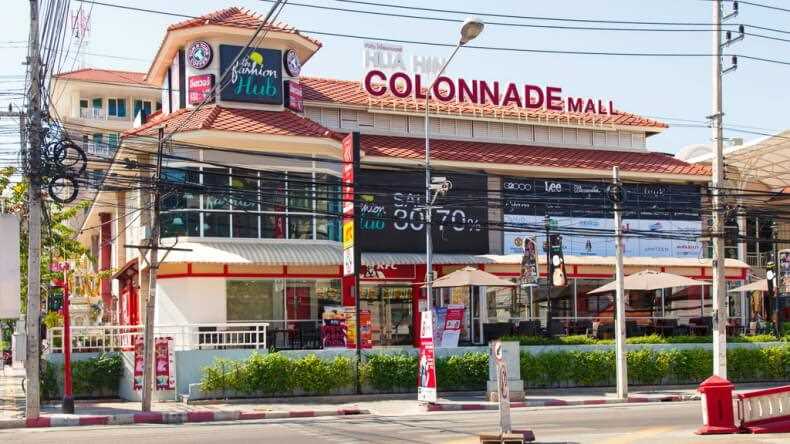 Petchkasem Road in Hua Hin is the main shopping area. It also has Shopping Mall, which sells a little bit of everything – clothes, shoes, stationery, toys and electronics, as well as Power buy – a paradise for smartphone and gadget fans.
Hypermarkets
.

Hua Hin hypermarkets are large outlets where you can buy groceries, but some of their space is devoted to industrial everyday goods – household chemicals, electrical goods, Thai cosmetics, toys (read more about Thai hypermarkets and supermarkets).

At the intersection of 84 Soi and Petchkasem Road is Villa Market, a store selling uncharacteristic Thai products imported from the US and Europe. There you can buy the usual sour cream, yogurt, choose a good piece of meat without fearing that in life it was part of some exotic inhabitant of the Thai jungle. This is the best place in Hua Hin to buy Thai alcohol. It has the highest prices in town.
The Chit Sattha Alley area has about the same range of grocery hypermarket Big C, where the proportion of local products is larger. There you can buy exotic fruits and Thai souvenirs along with other items. Prices are affordable. For payment, not only cash, but also cards are accepted. It is open from early morning to ten in the evening.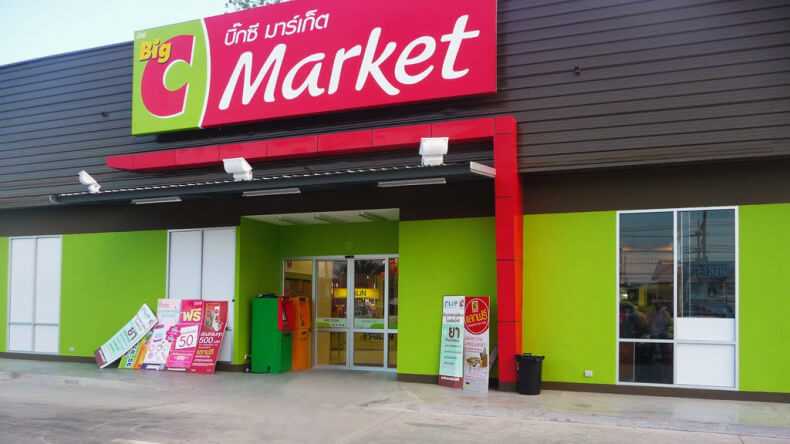 If you prefer to do your grocery shopping once a week, walk to the intersection of Soi 4 and Pertchkasen Road. The Makro Cash&Carry hypermarket does just that. It's convenient because it opens at 6:00 a.m. and the discounts on fruit are unbelievably generous.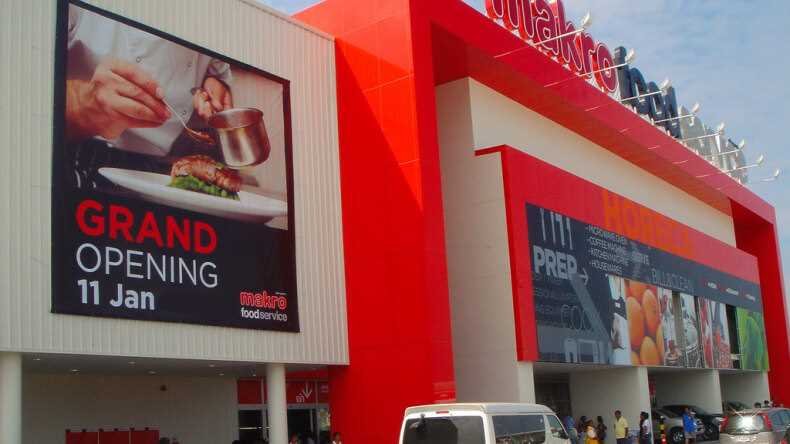 The Tesco Lotus chain store located under the roof of Market Village in Hua Hin has a special format. In addition to food, it sells clothes, shoes, and household chemicals. There is a culinary department, where you can have a snack and try the local pastries. There they sell plastic containers that are convenient for transportation of fruits on the plane.
Departments and shops
.

Literally on every corner in Hua Hin you can find a store of the popular chain 7-Eleven. It sells all sorts of stuff – both groceries and what we tend to call haberdashery. They also sell toothpaste, insect repellents insect repellents and other household sundries. The best part about it is that you can heat up sausages, hamburgers and other stuff in the microwave right at the cash register.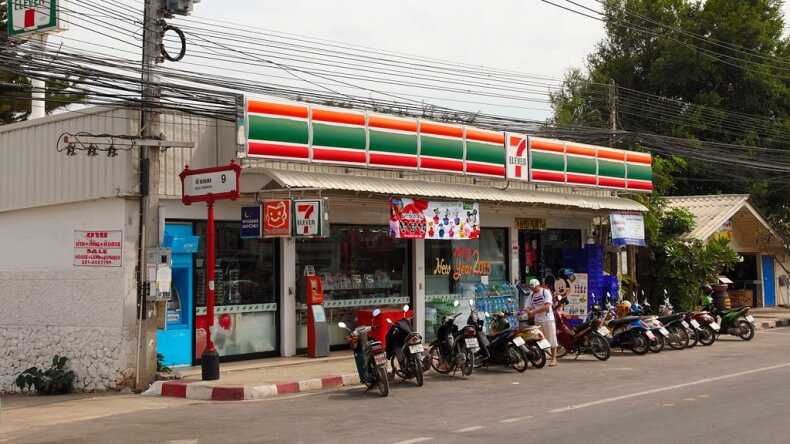 There are similar chain stores Family Mart, but they are not as common and popular with Thais themselves, but they are good for shopping.
Trade-in-parks
Shopping in Hua Hin can be done without even going to a specific store. There's a brisk trade in souvenirs, clothes and Thai goodies at two amusement parks – Venia Hua Hin and Santorini Park Hua Hin. In "Santorini", styled as a Greek island, the fun is pretty rough: water park, museum of volumetric paintings, Ferris wheel and other attractions. It is located 30 km outside the city in the direction of Bangkok.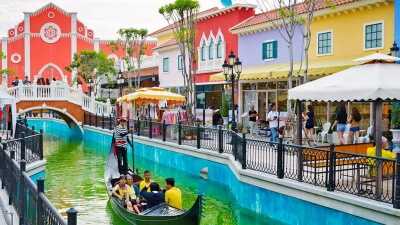 Park "Venezia Hua Hin"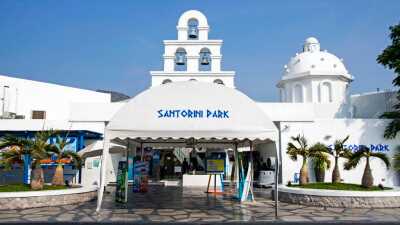 Park "Santorini Hua Hin"

.

Toy Venice can be traveled in a gondola, there is a contact zoo for children (rabbits, goats, sheep). The attractions work, but the place is quieter and closer – it will take about 20 minutes to get there (there is a separate article on this subject "Top 10 attractions in Hua Hin").
Markets
Markets in Hua Hin are all kinds, but the most interesting for tourists are those located on the water. At these floating bazaars you can immerse yourself in the authentic atmosphere of Thailand, talk to the natives and relax.
Sam Phan Nam Floating Market you can alternate between shopping for souvenirs and Thai food and taking a rented catamaran or boat ride, feeding the fish and watching the water birds.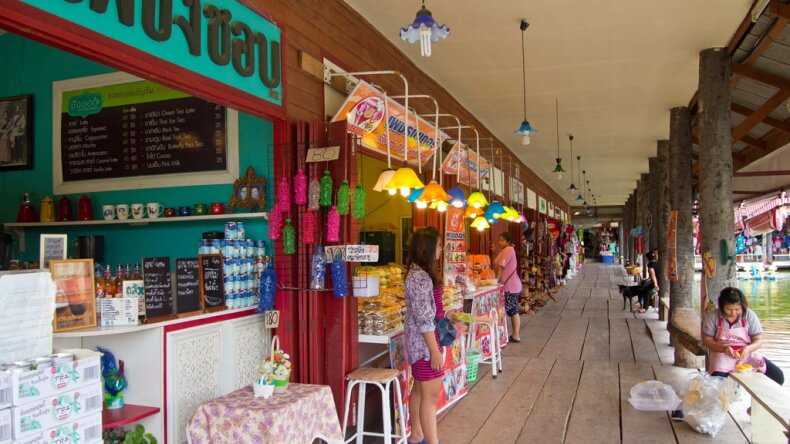 The Hua Hin Floating Market night market, which is open until 11pm, is a noisier place and overpriced. There are many restaurants and street makashnikas.
Shops and markets on a map of Hua Hin
.

Use the arrow keys to navigate.

Cartographic data ©2022 Google Images ©2022 TerraMetrics

Cartographic data ©2022 Google Images ©2022 TerraMetrics

Use the arrow keys to navigate.

Cartographic data ©2022 Images ©2022 TerraMetrics

Map Data ©2022 Images ©2022 TerraMetrics