If you have decided to move to Thailand for wintering or even longer, you should think about how to open a bank account in Thailand and get a bank card. This will give you additional convenience and advantages, in particular, no interest on each cash withdrawal at ATMs in Thailand.
As far as I know, Sberbank in Thailand withdraws 1% from MasterCard and Visa cards, correct me if I'm wrong. And Chinese banks themselves take a commission for cash withdrawal – that is, your account will be charged about 150 baht. Lost money and the translation of Russian rubles in baht, because of the difference in exchange rates. After opening a card, you may be interested to know how to transfer money from Russia to Thailand with a small commission.
Is it worth opening an account in a bank in Thailand?"
Banks in Thailand can provide you with a card with which you can pay at Thai supermarkets (for example, the building stores Home Pro in Thailand) and online banking to top up your cell phone. You will not always be charged a fee.
If you're not only vacationing, but working for someone, or you your business in Thailand (ideas for opening a business), then you absolutely need open a Thai bank account. Your salary is transferred to it, or you replenish the account with baht yourself. You don't have to carry cash everywhere, which just beckons pickpockets. If you get cash from a Thai bank card at bank branches or ATMs, they may charge different commissions, even within the same bank. Buying real estate, you need to pay in baht. Therefore, it is better to open bank cards in Thailand.
Banks in Thailand.
Banks in Thailand vary in their unique names, logos and coloring of their branches. Each has its own requirements for opening an account and a MasterCard or Visa card. Most banks also arrange health insurance, which will cost you at least 600-800 baht. The price depends on the cardholder's insurance options. Issuing the card itself and opening a bank account in Thailand costs about 300 baht.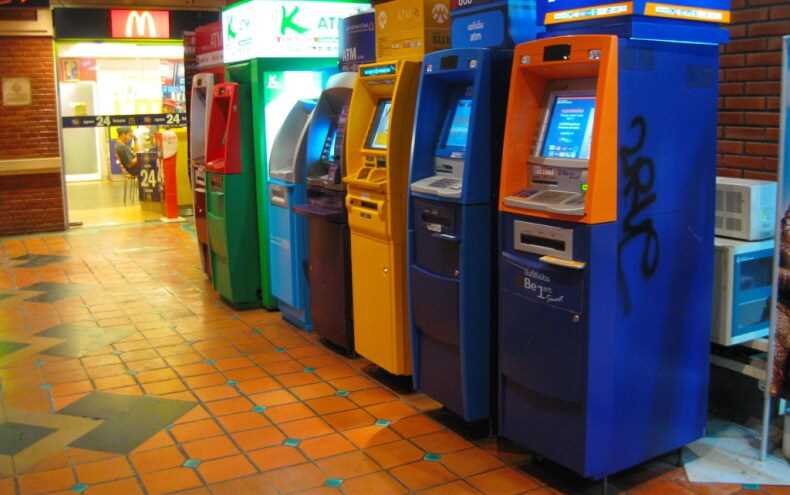 Thailand's ATMs
There is an ATM withdrawal limit on bank cards and it is about 20,000 per transaction, and there is a limit on the amount of cash out during the day. There are ATMs that allow you to withdraw up to 25,000-30,000 at a time (Bank of Ayudhya). Withdraw larger sums can be withdrawn in the banks of Thailand. Speaking of withdrawing cash from ATMs in this case, you can become a victim of fraudsters who use skimming equipment for creating a duplicate of your card with which they will easily withdraw all your money. There is a separate article on how to protect yourself from all this: "How not to lose your money when traveling in Thailand.
The province where the account was opened will not charge you additional fees for cashing out or when viewing the balance. In other provinces your account will be charged 15 baht.
Basic requirements for opening an account
The requirements for a person opening an account vary from bank to bank. But most require the following:
passport (what to do if you lost your passport in Thailand?)
phone with a Thai operator's SIM card
address where you reside in Thailand. You'll need to confirm it;
You may need to provide Resident Certificate, Work Permit or visa for one year.
From among the many financial institutions in Thailand, it is better for a foreigner with a 30-day stamp in his passport to choose the following banks:
Bangkok Bank
SCB
Kasikom Bank
Read More: