The delightful addition to vacation in Thailand is shopping. Shopping on Koh Samui allows the tourist to buy the necessary goods and communicate with representatives of the local population. Getting to know the main points of sale beforehand will save the vacationer a lot of time and make the shopping process less tedious and more productive.
In this article we will tell you about the shopping experience.
Review of the big stores on Koh Samui
While small kiosks and markets on Koh Samui are plentiful, large Thai supermarkets cannot boast of their abundance. Nevertheless, shopping on Koh Samui fully satisfies farangs. The world-famous supermarket chain Tesco has three malls on Samui. One operates in Naton, another stands between Chaweng and Bophut, and the third welcomes visitors to Lamai Beach.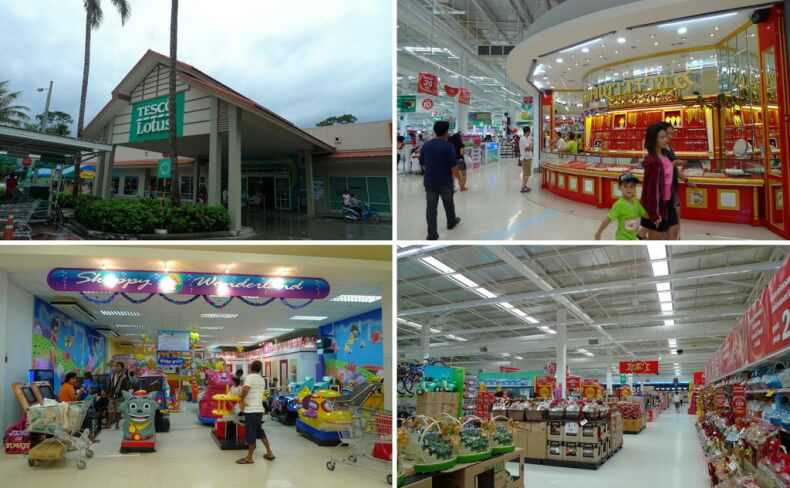 The Tesco Store on Lamai
The second most prominent is Big C. This huge Samui store is made up of a variety of sections, each with a different purpose. Here customers can stock up on household goods and clothing, buy quality jewelry and trinkets for homesick relatives. Demanded goods are mobile devices, gadgets, all kinds of technology. There is a separate area with Wi-Fi to cater to shopaholics. Big C also has a barbershop.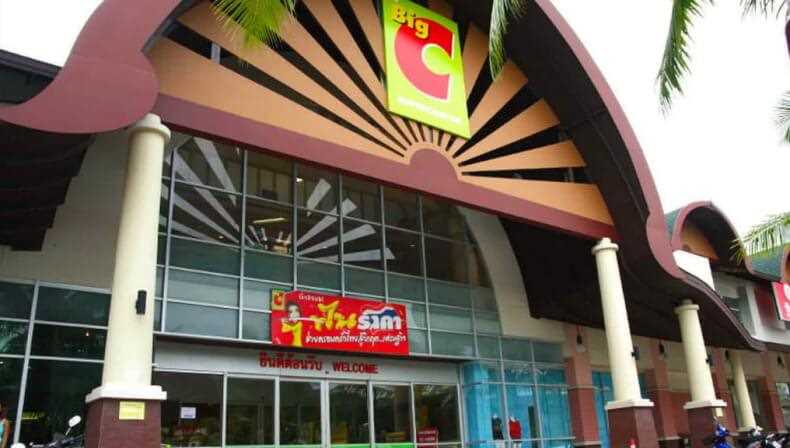 The Big C store on the ring road between Chaweng and Bophut beaches
The small wholesale store on Samui is Makro. It sells goods at the lowest prices. Located thrifty outlet in front of Tesco. Foreigners can do small purchases at Seven-Eleven and Family Mart.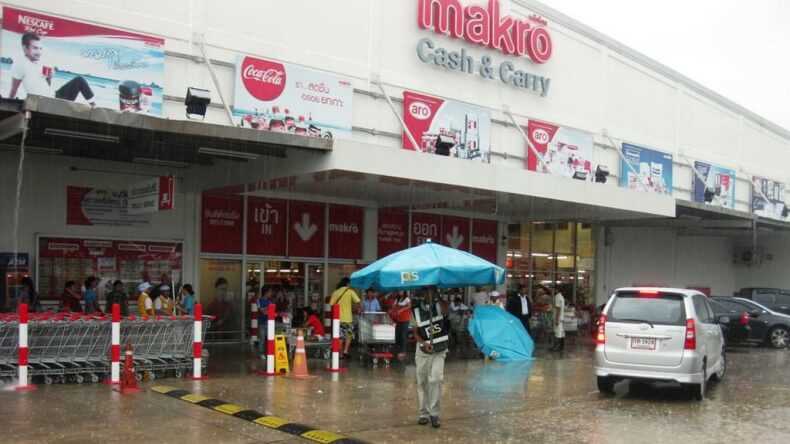 Makro store, also located between Chaweng and Bophut beaches
Central Festival on Koh Samui
The brand new shopping mall Central Festival opened in March 2014 in the center of Chaweng Beach. It has three floors and 90,000 square meters of retail space. It is currently a very popular place for shopping lovers. Here visitors can find many brand name boutiques – Camel, Adidas, AIIZ, Esprit, Jim Thompson and others, as well as restaurant and bar chains such as Auntie Anne's, Black Canyon Coffee, Haagen-Daz to name a few.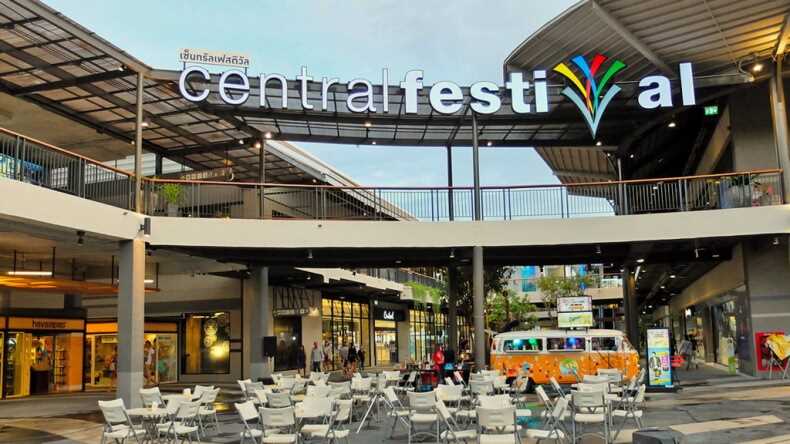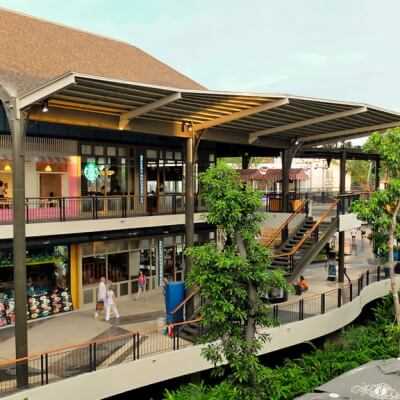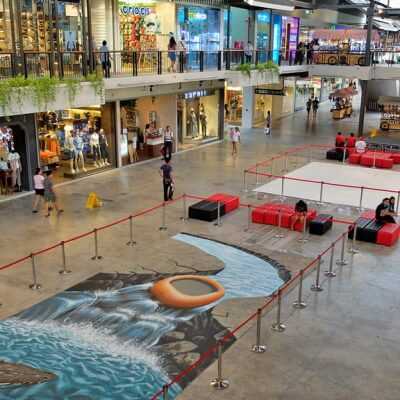 Also at Central Festival on Koh Samui you can find boutiques of sportswear and related invertebrates, casual wear and various accessories, audio and video equipment and much more. By the way, the photo at the very top of the article was taken inside this very mall.
Where to buy jewelry: jewelry stores in Samui
Where to shop in Koh Samui is unthinkable without a visit to Samui Lapidary. The large jewelry store is located on the ring road in the north of the island. One can't find much variety in the assortment here – one and the same model is presented in different sizes and with variations of stones. Another interesting jewelry store can be found in the southeast of the island, called, Bowtiful Samui (on the map).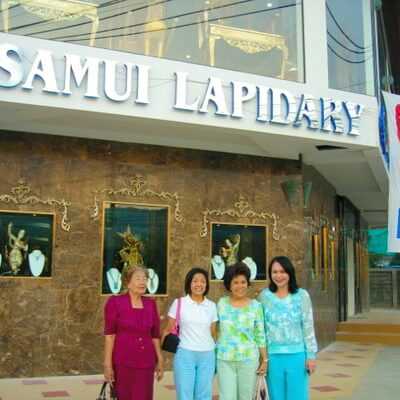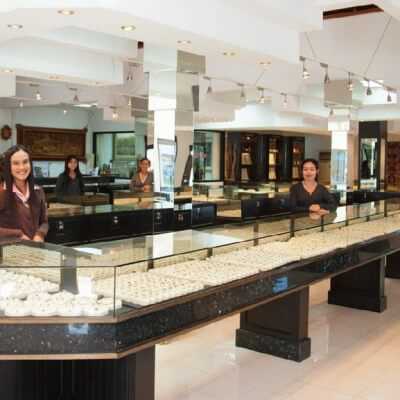 While visiting samui jewelry stores, lovers of expensive jewelry can buy white gold and diamonds for 100,000 rubles. More affordable prices are set for rhodium-plated silver, precious and semi-precious stones. Visitors to jewelry stores in Samui are offered a certificate for gold.
Walk-through-the-markets-Samui
The essential part of shopping on Koh Samui is the trip to the markets (read about How to bargain in the markets in Thailand in a separate article). All markets on the island are divided into grocery, vegetable and souvenir. Also noteworthy is the Fish Market on Koh Samui of Bangrak district, which is the oldest of its kind.
Fresh fish and nutritious seafood are brought to the counters at the Fish Markets in Samui by sailors hurrying in from their night or morning fishing. All kinds of fish, small and large shrimp, and solid crabs are on offer at the Koh Samui Fish Markets. King prawns sell for 250 baht/kg, others for less than 200 baht.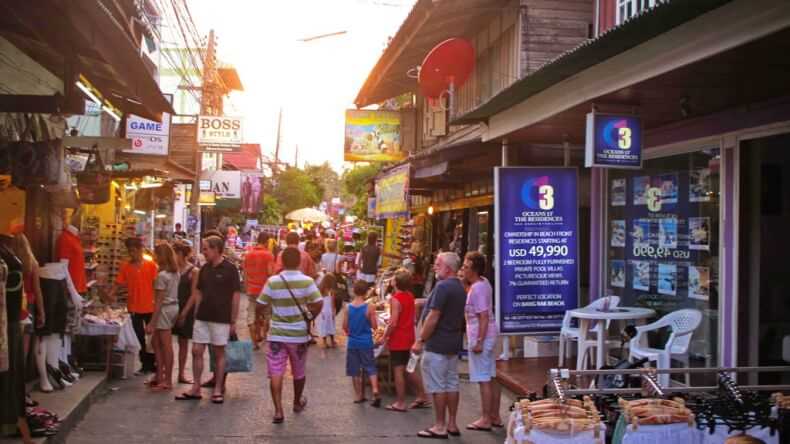 Markets in Samui offering a range of food products are at the following locations in Thailand:
Naton;
Muslim village adjacent to Lamai beach;
Bophut near the Big Buddha Monument (Buyers arrive here by ferry from the islands of Ko Tao and Ko Phangan);</li
on the ring road, next to which is the right turn towards Fisherman's Village.
Volkin Street Fair on Samui
This is not the same wolkin Street debauchery located in Pattaya – it is simply a lively meeting place for vendors, artisans and shoppers, striking with an abundance of smells, flavors and colorful flashes of people in the crowd. Between 5 p.m. and 10 p.m., Walkin Street on Samui becomes an exclusively pedestrian zone. Vendors offer their wares in the form of clothes, drinks, food and souvenirs. There is also a makeshift stage with music and songs in English.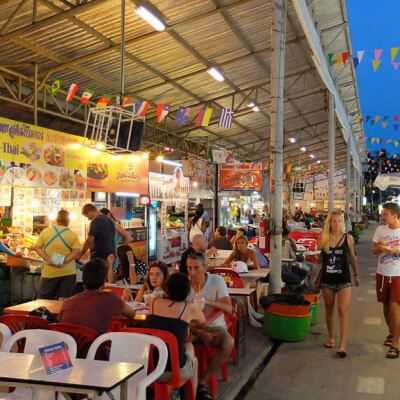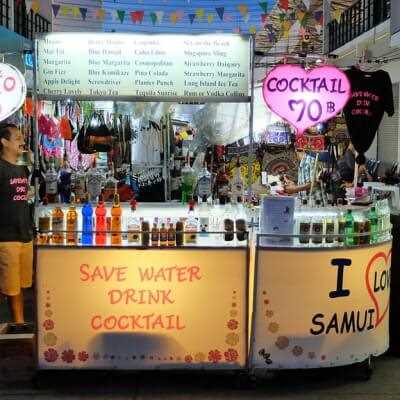 The Volkin Street on Samui shopping event is held on a particular day of the week on different beaches on the island:
Chong Mon – Wednesday;
Maenam – Thursday;
Bophut – Friday;
Lamai – Sunday;
Chaweng – Mon-Sat
The Chaweng Beach Fair is buzzing every day except Friday and Sunday. It's not hard to find this busy stretch, as the vendors are always stationed near the main ring road. Orientation is facilitated by the accumulation of people and vehicles, whose traffic is regulated by police officers.
Tasty corners of Samui – fruit markets
Fruit markets on Samui are represented by three outlets:
Chaweng Market, standing on Beach Road in Chaweng. Vendors gather by noon and work through the night.
Lamai Market. Affordable prices and a relatively small area allow shoppers to quickly find what they're looking for. The market is open from 5 p.m. until late at night. It is located on the main ring road, next to and the gas station.
Laem Din. This fruit market is adjacent to the Boxing Stadium, a famous part of the island where Thai boxers compete.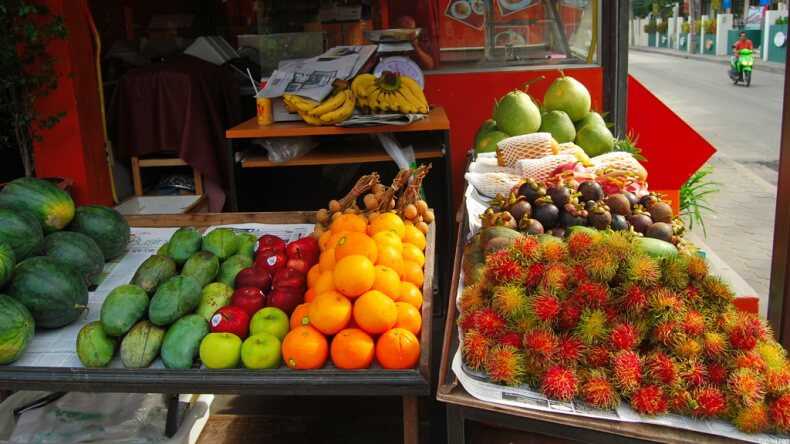 All fruit markets on Koh Samui are astonishing in their range of exotic fruits. It is so rich that even seasoned voyagers are lost in their choices. Spiny durian, mango, jackfruit, mangosteen, coconut, rambutan, salak-the list of goodies could go on and on.
Latex store, snake farm with unique medicines based on snake venom, natural cosmetics and tea store, jewelry store with natural pearls and precious stones from Thailand – all of them can be visited by booking a free transfer from the hotel and back.
Read More: