Excursions in Pattaya are no small part of the tourist business, the second most effective tool for siphoning money from wallets. There are not just a lot of them in this city, there are a lot of them. For a standard vacation of a week you will not have time to master even half of them. Today we offer you a brief overview of Pattaya excursions. It will help you choose excursions which are worthwhile and do not burden your wallet too much.
The variety of excursion programs offered in this tourist center of Thailand can indeed be daunting. However, if you carefully read the description of excursions in Pattaya, it turns out that the name and duration are the main difference between them. And the topics are about the same. For example, tourists must be taken to the capital. However, there are dozens of programs to visit Bangkok. They may be called in different ways: Evening Bangkok, Shopping in Bangkok, Historic Bangkok … In general, add to the word Bangkok, any definition, and you will find a typical program excursion.
Bangkok offers a variety of excursions.
The excursion programs offered, thanks to which you will spend your vacation unforgettable, can be divided into the following categories:
Sun excursions to the Thai Islands.
Cognitive, during which you are shown a whole set of attractions of Pattaya.
Shows – from the quite innocent to the 18+ category.
International – trips to Cambodia, usually.
Part of them, for all their outward appeal (name, program) is better not to visit at all.
Where best to buy a tour
.
You can buy tours in Pattaya as in a travel agency, and directly on the street, where at some stall barker with a megaphone offers "guests sunny Pattaya" a fascinating pastime. A small sightseeing tour of Pattaya – this is what you had better do on the first day of arrival. For getting to know the area, so to speak.
Another question is where best to buy a sightseeing tour. In our opinion, the safest option is to buy a package of sightseeing tours along with the trip. As a rule, they turn out to be the most well-organized, with a really interesting program that is suitable for the whole family. In addition, you won't have to spend your vacation days trying to communicate with an unfamiliar social environment. The advantage of turning to a local travel agency is a greater variety of programs – for all the uniformity there, although rare, there are very interesting proposals. But in this case, you should take out another insurance.
.
The cost of tours in Pattaya depends on two factors: the duration and provided comfort. The most expensive are those that include half board – overnight, breakfast, lunch or dinner between the hubs of the trip.
The most expensive are those that include half board.
Another option is to buy excursions through Sputnik8.com, which is an online retailer of personal and group excursions worldwide, including in Thailand. We reviewed this great service here.
The most interesting excursions in Pattaya
.
To those who still do not know what excursions to visit in Pattaya, we offer a brief overview of the most, in our opinion, fascinating and exotic travels that belong to the category of must see. It should be noted at once that if you really want to have a lot of fun, to see a lot, be prepared mentally and physically to spend on the road up to two days. It is difficult, but the effort will be worth it. The best excursions in Pattaya are multiday.
1
On the River Kwai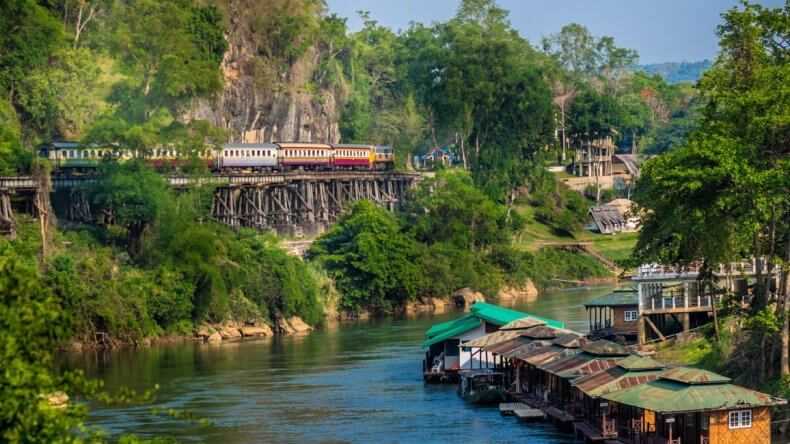 The Kwai River excursion from Pattaya is the most colorful and memorable. The route leads through the Erawan Reserve, one of the largest in Thailand. It covers almost the entire province of Kanchanaburi. From the bustling city you enter a pristine tropical jungle. The program includes rafting and canoeing, visiting geothermal springs, touring the jungle on elephants, visiting temple complexes and Thai boxing school. The trip lasts two days, and it is really well organized. If you decide to go on your own, you will not be able to see half of all the beauties, but your transportation costs will increase many times.
If you decide to do this journey on your own, you will not be able to see all the beauties.
2
Trip-to-Cambodia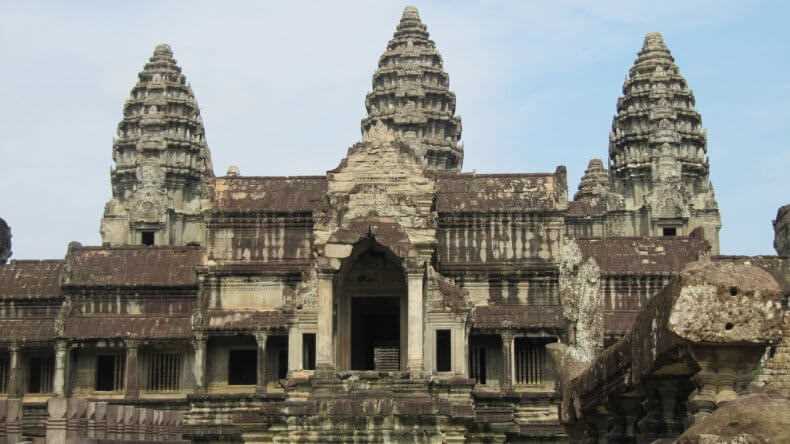 The excursion from Pattaya to Cambodia is a vivid and memorable trip, the main purpose of which is to visit the largest temple complex in the world – Angkor, the outlines of which can be seen from space. On its territory there is a temple Ta Prohm, which the natives call the temple of Angelina Jolie. And all because it was the location of the shooting of the world bestseller about the adventures of Lara Croft, the seductive tomb raider. In addition to visiting the majestic ruins, you will be shown the Tonle Sap Lake – the largest freshwater body of water in the Indochina Peninsula. Its peculiarity is the seasonal increase and decrease of its area, which makes the lake resemble a beating heart. The locals live right in the middle of it – the villages are built on stilts. Its visit is one of the points of the tour. We advise you to stock up on a dozen removable memory cards for your cameras and camcorders, as there are so many things to photograph in this colorful country that even a few dozen gigabytes may not be enough.
3
From pattaya to bangkok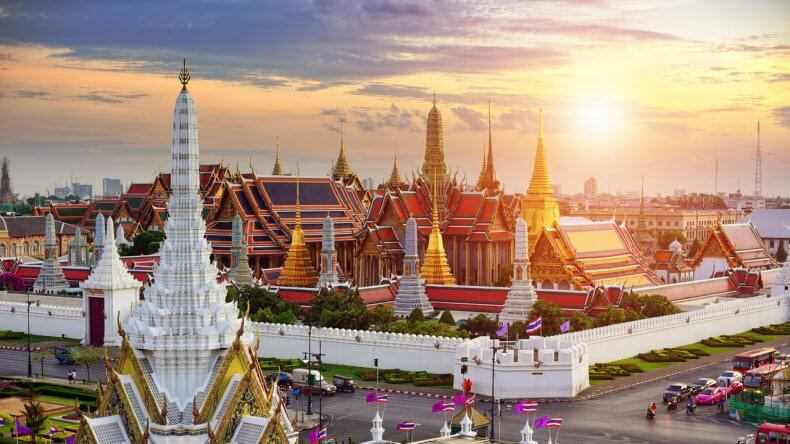 The excursion from Pattaya to Bangkok is a classic of the genre, there isn't a single travel agency that doesn't offer it. Another thing is that most of them are one-day trips. And you should choose a trip of at least two days, because it is impossible to get acquainted with Bangkok, a huge metropolis, very diverse in all forms of Asian society – from the brilliance of the modern business center to the slums of Chinese Quarter, in such a short period.
The agenda for a visit to the Thai capital usually includes:
Oceanarium Siam Ocean World.
Trade centers Siam Paragon and MBK.
The Royal Palace.
The viewing platform at the Bayok Sky skyscraper.
Buddhist temples – Morning Dawn, Lying and Emerald Buddha.
Pattaya attractions
The tourist boom in Pattaya has been a breeding ground for organizing a mass of attractions both in the city itself and in its suburbs. Nowadays the range of entertainment industry is very wide: there are parks with traditional-style landscaping, you can ride elephants, communicate with animals in contact zoos or even with dolphins. Most tours of local attractions are designed to visit several places in one day. Because of the high competition the prices for excursions in Pattaya are very moderate and often they are cheaper than if you went by yourself along the same route.
4
Pattaya sightseeing tour
.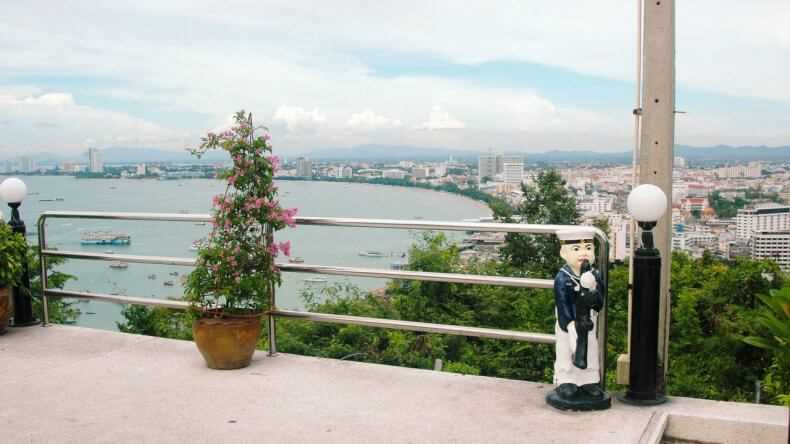 The Pattaya sightseeing tour is a classic and popular sightseeing program that is recommended to think about in the first place after checking into the hotel. This is because it means getting to know this wonderful (not for everyone) resort and helps you get your bearings in an unfamiliar area. It includes a visit to the viewpoints of Pattaya, which offers a picturesque view of the resort, as well as the Golden Buddha mountain, a colorful garden of Thai flora, the main attractions, temples, museums, the factory Thai cosmetics and much more, if you wish.
5
Discovery Tour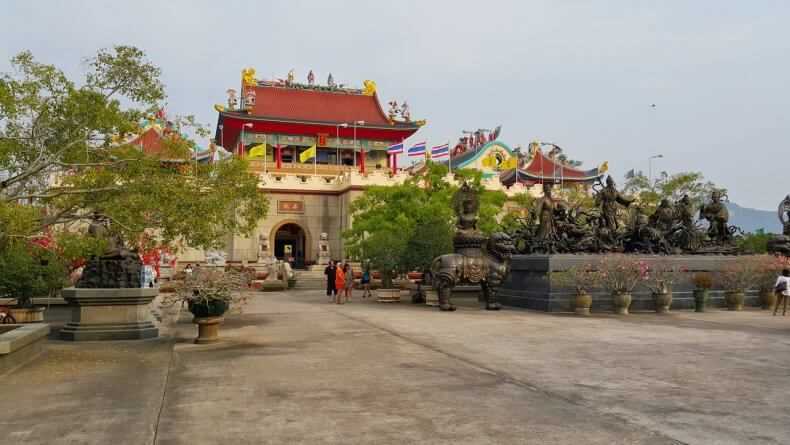 The Discovery Tour in Pattaya includes an introduction to the most interesting places in the suburbs. Many tourists believe that this is the most interesting tour in Pattaya. In its course you will be offered to get acquainted with the underwater world of the Gulf of Thailand, and with an authentic Thai village. The tour program includes:
An overview of the old Chinese Temple

.

Tour of a fishing village and oyster farm (clam tasting included).
The Temple of Heaven and Hell.
Contact Khao Kheow Zoo.
Tiger Zoo

.

Pineapple plantation visit and fruit tasting.
6
Khao Kheow Zoo
.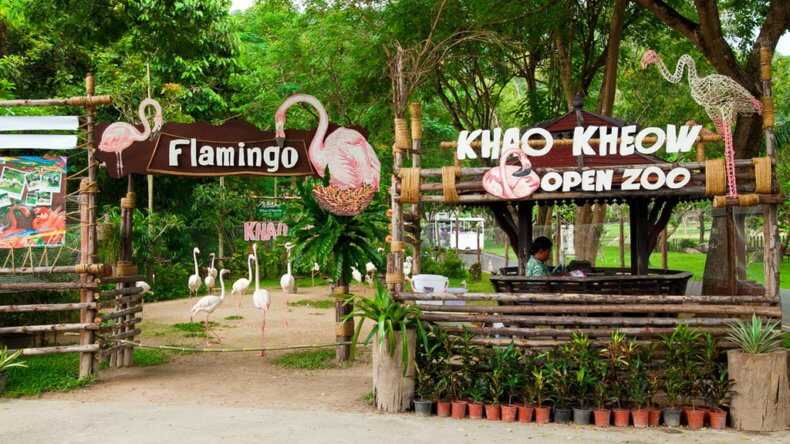 This is probably the cheapest excursion in Pattaya, but it is very interesting. Khao Kheow Zoo is the largest in Southeast Asia, with most animals living in open aviaries. There is free access to species that are not dangerous to humans – herbivores, some primate species. The animals are so accustomed to visitors that they are no strangers to communicating with them. They beg for treats and allow themselves to be stroked.
7
Nong Nooch Tropical Garden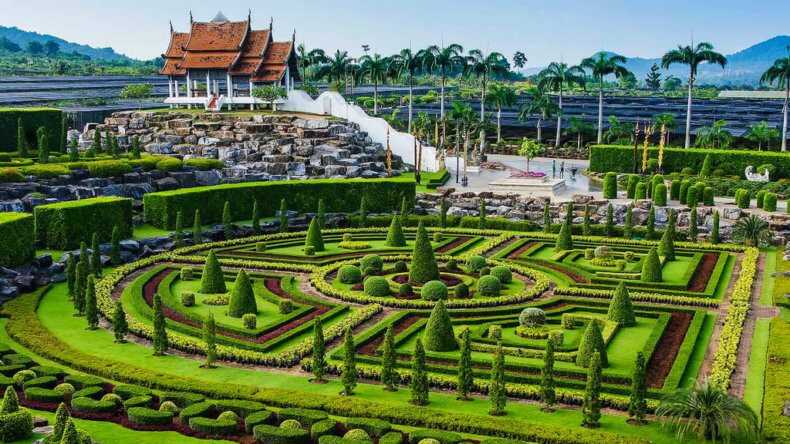 The excursion to Nong Nooch Park in Pattaya will appeal to both children and adults. The park is divided into several zones, different style of landscaping – there are Japanese, Italian and French parks, separately orchids, palm trees and cacti. The list of exhibits includes a collection of retro cars, and there is a mini zoo for children. The Nong Nooch Park contains a herd of trained elephants (by the way, you might be interested to read a shocking article about how elephants are trained in Thailand) that give small performances.
8
Million-year-old stones park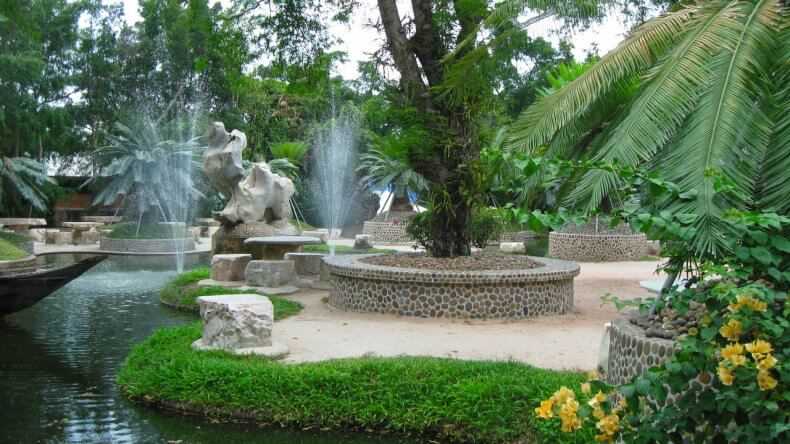 One of the most unpretentious excursions to just relax on. Millennial Rocks Park is a collection of the most bizarre stone blocks, brought in from all over Thailand and even from abroad. Within the park's boundaries is an aviary where crocodiles are kept. You can feed them with chicken carcasses, which are sold right there. If you're not too squeamish, you can try the reptiles at a nearby restaurant or buy a handbag made of their skin in a nearby store.
9
Oceanarium in Pattaya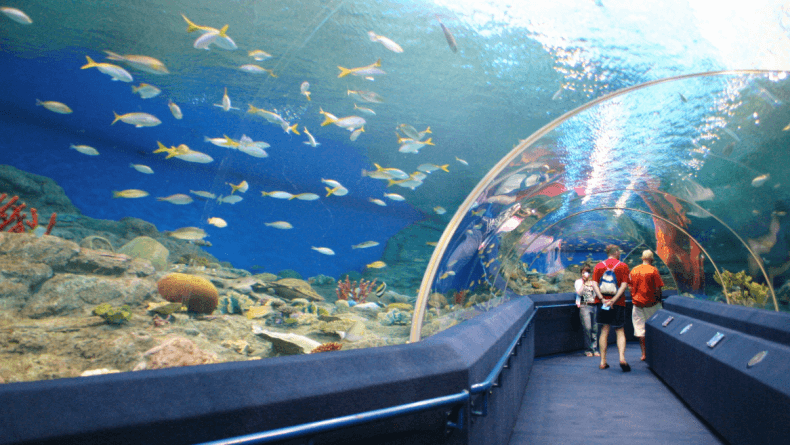 The excursion to the Pattaya Oceanarium is consistently popular with tourists. It takes you through a hundred-meter tunnel of glass that runs along the bottom of a huge pool. You can watch the life of the underwater inhabitants of the Gulf of Thailand. A variety of predators (moray eels), invertebrates (jellyfish) and mollusks, including giant octopuses, are represented.
Excursions to the islands
Excursions to the islands from Pattaya are extremely popular with tourists. It is almost impossible to describe all the options which differ in length, accommodation, food and service. So we will focus on the most interesting and popular ones.
10
Visit Military Beach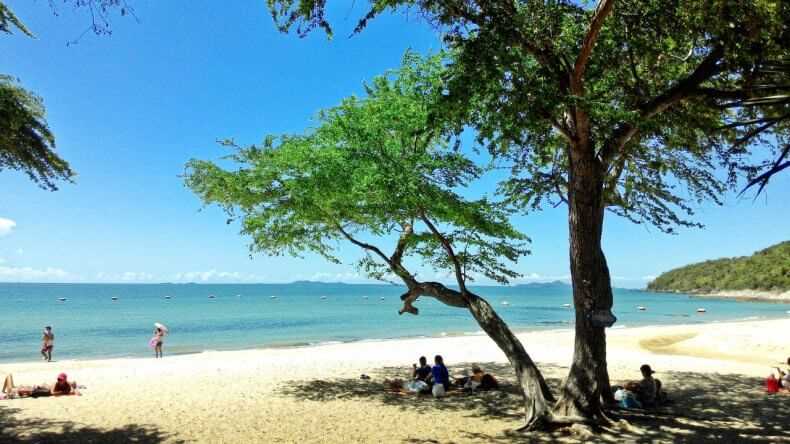 The one-day excursion to Military Beach in Pattaya lasts from 8:00 am to 5:00 pm. The beach itself is next to a military base and is maintained by recruits. It is also called Sai Kaew – the Blue Lagoon. It really is – the white sand kisses the crystal clear azure water. The difference from urban beach in Pattaya is striking.
11
Madagascar Excursion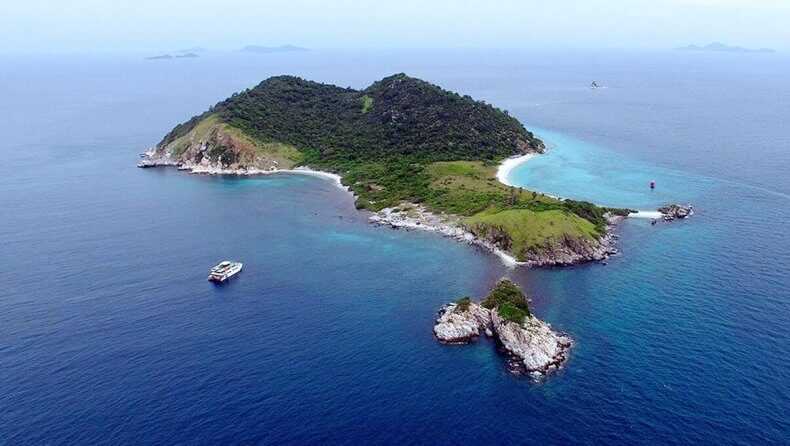 The Madagascar excursion from Pattaya is just as full-day. The origin of the name is difficult to explain, but it is well remembered. Its program is quite extensive:
Disembarking on the beach of Ko Rin Island, swimming and relaxing.
A visit to the island of Ko Ped. Take care of your cameras and purses, there are thousands of monkeys.
fishing from the boat.
Diving and snorkeling off the coastal reefs.
Lunch in a buffet format

.

Foam disco.

.
12
Disembarkation on Ko Samet Island
.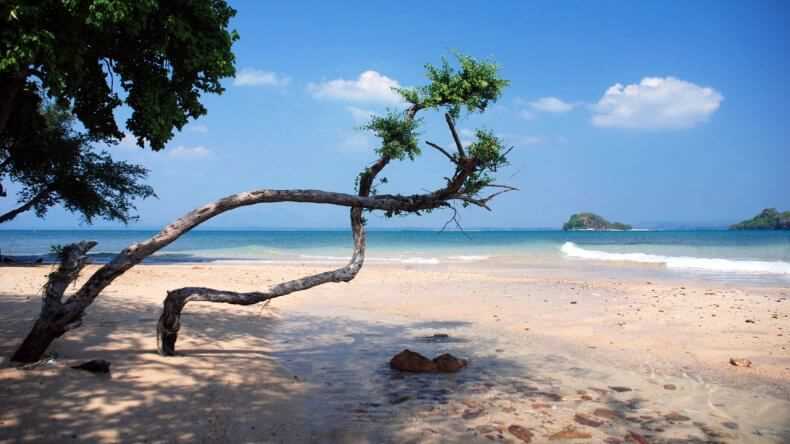 Excursions to Ko Samet Island from Pattaya can last either one day or three days. In our opinion, the optimal time is two days. One day is not enough to fully enjoy the views, as if descended from the commercials of candy bars "Bounty" – white sand under the canopy of sprawling palm trees. Visitors are taken to the island by speedboat.
13
Disembarkation to Ko Chang Island
.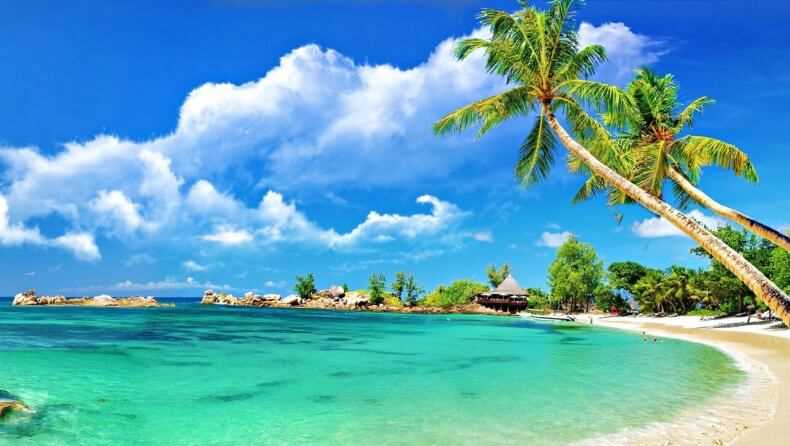 Ko Chang Island is the second largest piece of land after Phuket. It is located a hundred kilometers southeast of Pattaya, almost on the border with Cambodia. Excursion to the island of Ko Chang from Pattaya lasts at least two days. Tourists are taken there by ferry. There are two types of programs: economy and luxury. The last differs in that you will be introduced to all nearby islands – Ko Wai, Ko Lao Ya, Ko Lum, and you will have a possibility to snorkel and fish from the boat. You will have lunch on the same boat. Common items are a visit to the Monkey Temple and the evening show – fireworks. Overnight stay in one of the hotels on the island.
Shows and entertainment 18+
14
Transvestite shows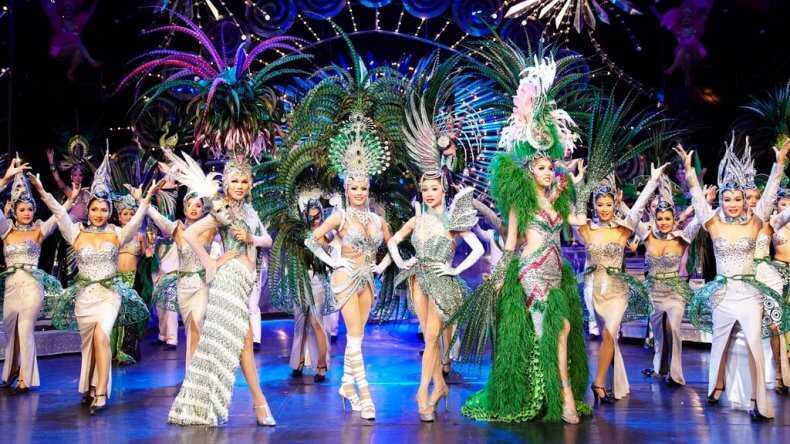 The transvestite show takes place at "Alcazar", Coliseum and "Tiffany" venues. Colorful and fascinating action, perfectly choreographed dance numbers and mesmerizingly beautiful female bodies displayed by the men, fully or partially modified. The price of the tour includes transportation to the show site and admission ticket. Visiting these entertainment venues on your own will cost you more for some reason!
15
Show 18+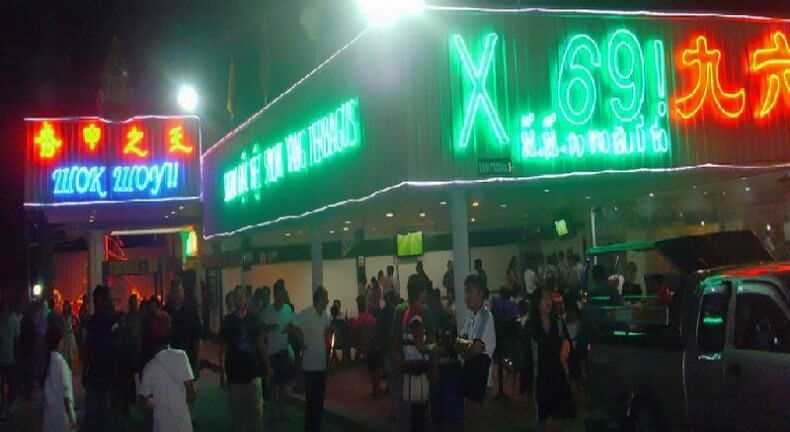 Since you're in Pattaya, it won't be unusual to want to attend an adult show where the performance given is only a subtle facet of porn. At least, the performers there often do such things that people with puritanical upbringing don't want to watch it.