Often foreigners from the former Soviet Union, planning to live or a long stay in an Asian country with their families, wonder – are there any Russian schools in Thailand (read more about travel to Thailand with a small child)? In Pattaya, there are currently only two such institutions.
Lessons in them are conducted in a language familiar to Russian children. Each educational institution has its own name – Znanie and Diplomat , a small review of which we present below. It should be noted that it will be a long way to get to these schools from Russian village in Pattaya. Also, if you have a degree in teaching and you're an excellent Know English, try to get a job Teacher of English in Thailand at one of these schools.
Russian School "Diplomat" in Pattaya
When looking at Russian schools in Pattaya, first of all we will touch upon the educational institution with the name "Diplomat". Its educational programs were developed taking into account requirements of the Ministry of Education of the Russian Federation. Graduation from this institution is marked for Russian-speaking students with a certificate, the sample of which is established by state standards of Russia.
The Diplomat Russian School in Pattaya is located in the Naklua district. Its specialists consider themselves educators of activists and claim that they came to work in Thailand from a private institution in St. Petersburg with the same name. But among the various information on the official website of the St. Petersburg institution there is information that the Russian school "Diplomat" in Pattaya has no connection with the Russian educational organization.
The monthly cost of classes at the Diplomat is 20 thousand baht. The entrance fee costs parents 15,000 baht. Meals and travel are separate lines in the parent's budget.
Parents' budget
Schools for Russian children in Thailand develop lessons based on Russian programs. Training is provided from 1st to 11th grade. Graduates go to St. Petersburg to take the Unified State Exam. They take the GIA in Pattaya or St. Petersburg.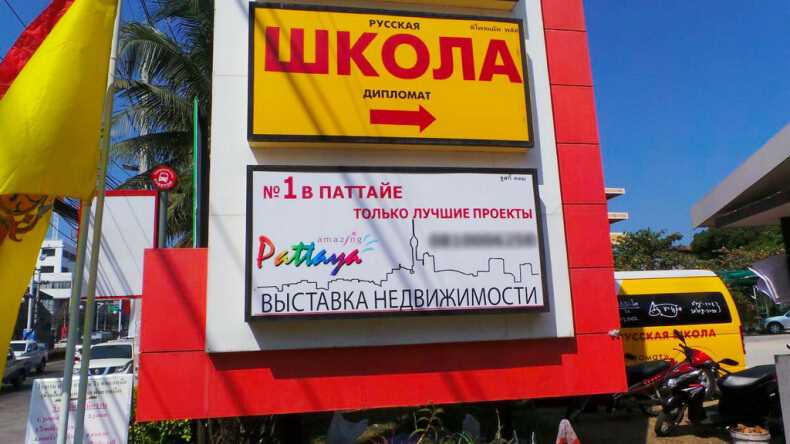 Russian School "Knowledge" in Pattaya
If you want your child to study with the methods of native Russian pedagogy, then Russian School "Znanie" in Pattaya (visit the site) welcomes them with open doors. The Learning Center is made up of a general education department, a pre-kindergarten studio, and a section that provides additional knowledge.
The curriculum of Russian Znanie School in Pattaya is based on the Federal State Standards stipulated by the Russian educational system for grades 1-11. Upon graduation each student receives a school certificate of the established format.
In the walls of this Russian school in Pattaya, children receive knowledge from teachers of the highest category who come from Moscow and St. Petersburg. Counting on their own high professionalism, they prepare students for the Unified State Exam and the State Exam.
Russian Znanie School in Pattaya is located at Phra Tam Nak soi 6, close to Pattaya Park Aquapark and Jomtien Beach. For a year's course in it parents have to pay about 200 thousand baht (depending on the class). For example, a student in 1st – 4th grade, the lessons cost 12 thousand baht. Ninth-graders pay 108,000 baht for the entire school year. Paying by trimester is based on a figure of 14,000 baht per month and adds up to 126,000 baht for the entire school year. With a monthly payment of 16,000 baht, the tuition for the school year is 144,000 baht.
If you believe the monthly tuition is 16,000 baht.
If rumors are to be believed, the Knowledge School for children in Pattaya is not a full-fledged educational institution, but an elective center. But it does engage unknown channels and help students and their parents in applying for visas to Thailand.
Pupils receive medical care as needed. Children attend the cafeteria, where they have hot meals. A school bus brings them to their first class. After the end of classes, students can stay in the after-school group.
Pupils can stay in the after-school group.
Read More: