A well balanced diet of all nutrients is the foundation for the development of a healthy child. What to feed children in Thailand? What eating places can I trust? Where to buy food? These questions are relevant to parents who take their children under 2 years old and older on vacation.
These questions are relevant to parents who take their children on vacation.
Publicity-Getintent
.
What to feed a child in Thailand before the age of 2
.
At this age, parents arrange meals according to the child's preferences. If the baby is still breastfeeding, it does not hurt to take a small supply of baby food. A long trip, possible flight delays, the trip to the hotel takes time, and the baby will not wait (for the trip from the airport to the hotel with the baby, we recommend booking a transfer, because you will be provided with child seats). For sure he will want to eat several times during this period.
It is possible to buy food for children in Thailand, but it also takes time to find a store with the right products. The ideal option is to take infant formula and instant porridge from home. Their low weight will not create an overabundance in your luggage. Jars of fruit and vegetable puree are heavier, and the shelf life after opening them is very limited.
When you arrive in Thailand, you can look for baby food in hypermarkets, such as Fine Foods, Tesco Lotus or Big C. It's not impossible to find the right one at 7-Eleven chain stores and pharmacies (such as Pattaya Pharmacies). The offer for child nutrition in Thailand is more scarce than in Russia. Some brands and varieties of products can not be found at all due to their absence. The shelves with baby food in stores are mainly occupied by Nan and Nutrilon products. You won't find "Russian-language" jars either – the information about the contents is written in English and Thai.
Organizing food for children in Thailand is easy from products whose basic ingredients are cow's milk and soy. Rarely, but there are goat's milk mixes produced by Japanese manufacturers. When you examine the cereal shelves, you will find that almost all of them have a wheat base with the inclusion of exotic fruits. The choice of additives is small – either a banana or a fruit mixture (multifruit). Most packages carry the logo of Nestle. Familiar to small children buckwheat, oatmeal, dairy-free, enriched cereal porridge is a rarity in Thai stores. So there is no way to diversify the menu.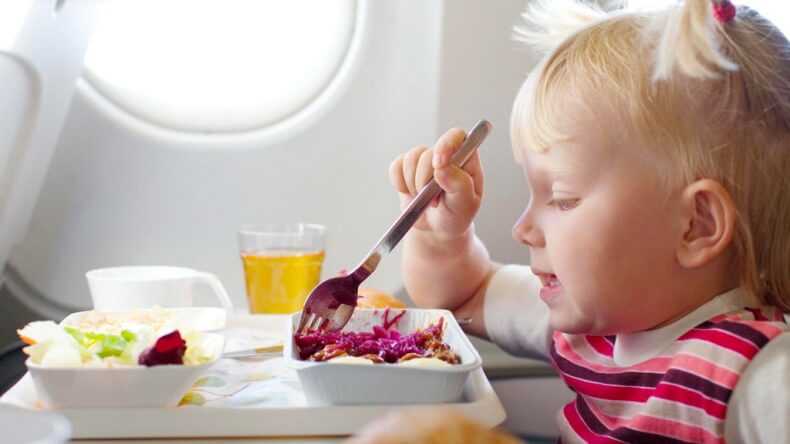 What-to-feed-a-child-in-Thailand-from-2-years-old
.
Two years old is not a big age, but your baby can easily get enough of the food served on the plane and in the restaurant. Visiting fast food outlets is not a good idea; they can be seen as a temporary solution. To avoid problems with digestion upon arrival at the place of rest, the baby should develop a complete diet.
What to feed a baby in Thailand from 2 years? In a rented home (read more about home rental in Thailand), the conditions of which allow you to prepare your own food, there would not be any difficulties. Having learned the location of supermarkets and markets, mom will buy products at any time. If checking into a hotel, it is recommended to write down in advance the addresses of places where children are fed in Thailand, but not exotic, but familiar to the stomach of a small foreigner.
In the case of a hotel, it is recommended to write down the addresses of places where children are fed in Thailand, but not exotic.
However the baby points his finger at the fruits and dishes that are new to him, do not give in to persuasion and do not feed him all the novelties in one day at once. Baby's digestive system to Thai delicacies must be prepared gradually. Otherwise, the child will get diarrhea or develop allergic reactions.
.Total
.
When thinking about what to feed your children in Thailand next, always watch the body's reaction after introducing new food. A gentle introduction to Thai cuisine will make it easier for babies to get used to unfamiliar foods and tastes.
Read More: