For those who go to Thailand not on vacation, and for temporary residence, the question of where to place the youngest offspring during the working day, is not idle. And also whether kindergartens in Pattaya, for example, are able to provide a child with a sufficient level of comfort and safety, and how highly qualified teachers – will they be able to develop their abilities? In this article you'll find all the answers to the questions above.
It is safe to say that any kindergarten in Pattaya provides services at a very high level, and it is not difficult to find a preschool in this resort city. This is the general rule for those areas of Thailand, where temporarily or permanently resides a lot of foreigners – tourists or those who have labor relations with private companies, municipalities. At the same time, there are some national peculiarities in the organization of kindergartens. For example, they can be divided into several categories:
Municipal institutions. They can be attended by both local children and the offspring of visitors. They are taught by Thai teachers according to their own internal rules, based on local customs and mentality.
International-style institutions. All are accepted, but classes are conducted in English and European norms of social behavior are taken as a model.
Russian-speaking kindergartens. Teaching staff is exclusively from Russia, Thais are only in the service.

.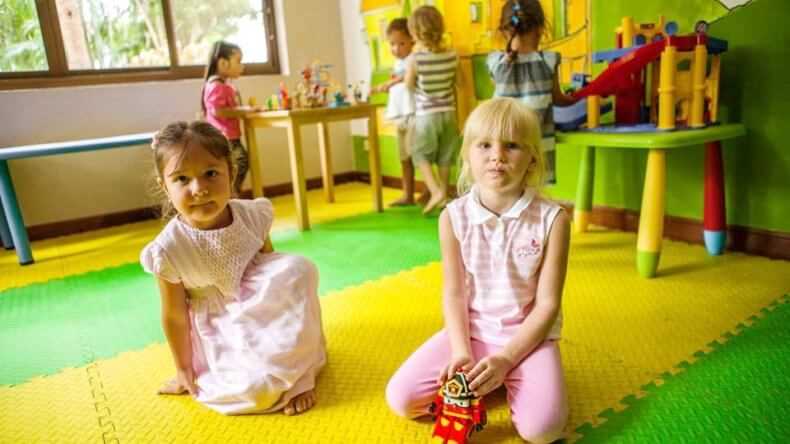 Pattaya kindergarten features
.
Kindergartens in Pattaya, like ours, are divided into age groups. The youngest accepts children from the age of one and a half years, but one can only leave them in the care of the teachers until noon. International and Russian-speaking preschools may work with children as young as two or three years old. But the general rule for municipal kindergartens is that children from the age of two can be admitted.
Enrolling a child in day care involves much less difficulty than in Russia. For example, you will not be required to show a vaccination card. In addition, you can pay for a shuttle bus service that will pick up and drop off your child at the appointed time. If this is expensive or too extreme for you, bring him or her yourself.
For everyone attending a Russian-speaking day care center, there are also indulgences in the way you eat. You're allowed to bring your own food or order an individual menu. Although this is an unnecessary hassle: in all types of kindergartens, the food is surprisingly tasty and varied. At the same time, children are served dishes with a minimum of spices.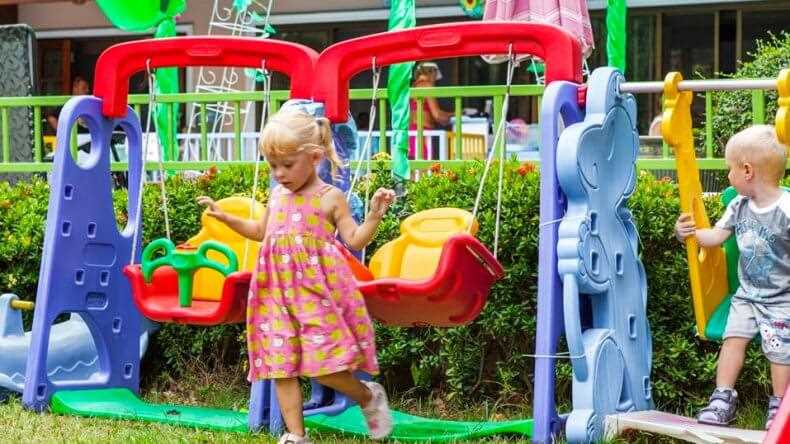 Cost of attending kindergartens in Pattaya
.
Kindergartens in Pattaya, where the staff is recruited from locals, are relatively inexpensive. A month of attendance will cost between 3 and 5 thousand baht. If the teacher knows English, and help him immigrants from the Philippines or local Thais with a good education, the cost will be twice as high. It is worth considering and additional costs – be sure to have two sets of uniforms, sports clothes. Meals, as well as transfers from home to daycare and back, are paid separately.
Child-development principles
Kindergartens in Pattaya, like ours, are divided into groups. The younger the age of the children, the smaller the group. The older groups have up to twenty children, and starting from two years of age, the younger groups have no more than ten.
If there is an educational program in the kindergarten, it consists of several short (no more than forty minutes) classes a day. They teach basic language skills in both Thai and English, and teach drawing and basic math.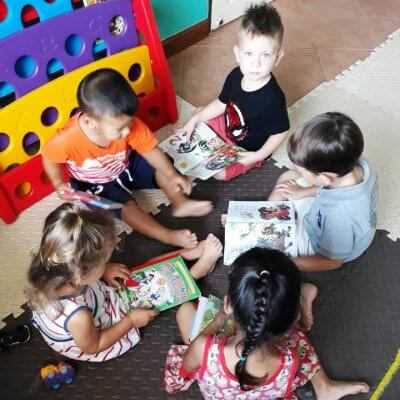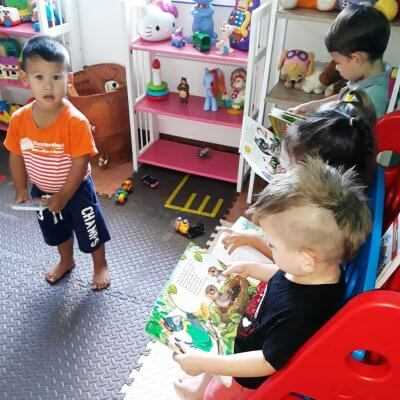 Learning to read
Sessions are interrupted by outdoor walks. After lunch all children are put to bed. A siesta lasts about an hour and a half. After the siesta, children are entertained with reading, thematic games and drawing.
The day ends with a half hour nap.
The day ends with an afternoon snack, a general line-up, and exercises – morning and evening exercises are the norm for kindergartens in Pattaya. There are kindergartens with a swimming pool, where children are taught to swim. Classes can be both individual and group. A specially trained instructor is paid for by parents separately.
There are preschools where children are taught to swim.
There are preschools where students are not forced to lessons, constructions and other organizational activities. However, this does not affect the quality of care. He will definitely be fed, wiped and washed if he needs it, sung a lullaby and helped to brush his teeth.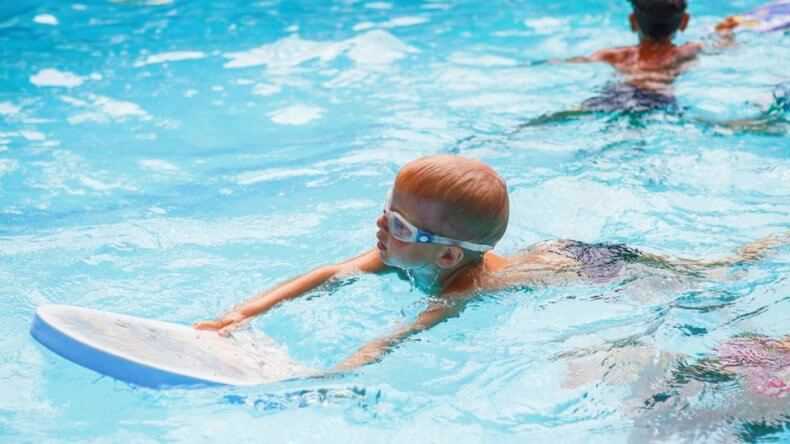 Swimming instruction
In principle, Thailand is characterized by a high level of organization in the process of teaching and educating children, they are never unsupervised and supervised. As in any patriarchal society, there is a strict distance between the older and the younger. However, the severity of the relationship never goes out of bounds – shouting and the use of force are absolutely ruled out.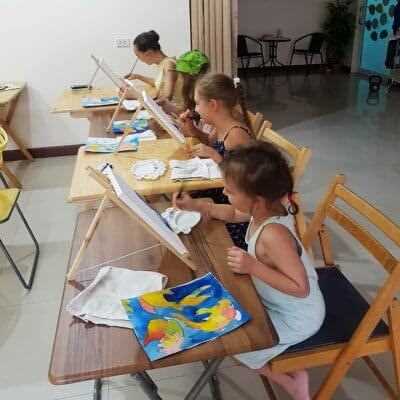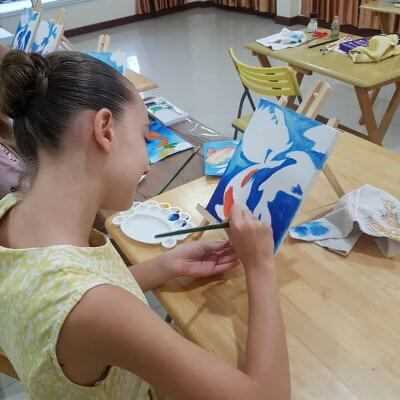 Drawing instruction
It is not mandatory for Thai children to attend kindergarten. Until the age of six, when they are already required to go to school, many of them continue to stay at home.
How to choose a kindergarten in Pattaya
Kindergarten in Pattaya is both easy and difficult to choose. The fact is that there are so many of them. To help you choose, here are two of the most popular for Russian expats and tourists.
Kindergarten Lukomorye in Pattaya
.
This kindergarten is located in the eastern suburb of Pattaya, Nong Krabok Village. The building is large enough to comfortably accommodate forty students.
Russian kindergarten Lukomorye in Pattaya (official website) – is a full-grown educational center where children learn English and Thai (this subject is optional, if parents wish). Much attention is paid to artistic, aesthetic and physical development of children, they play with them. The youngest ones are looked after by a Russian-speaking nurse.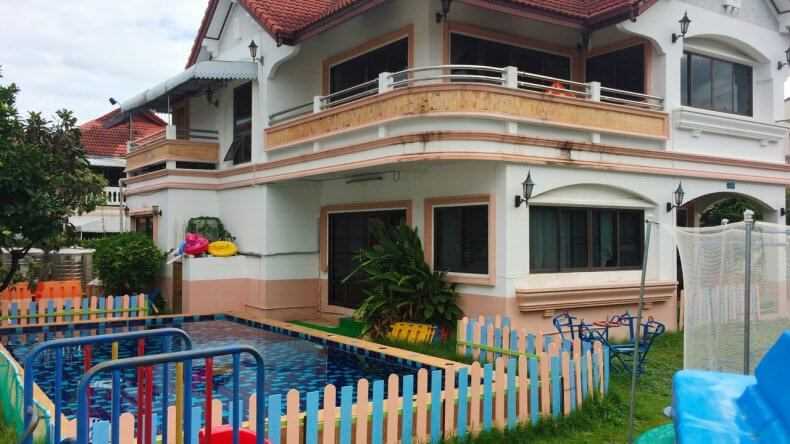 The area is spacious, very green and clean, with a picturesque lake nearby. A special grid of fences ensures protection against the entry of reptiles and small animals, the playgrounds are regularly cleaned from insects.
The day care center is six days open from 8:30 a.m. to 5:30 p.m. Sundays are off. The cost of attendance is 15,000 baht per month. This amount includes meals, language instruction, and shuttle service to and from the daycare.
Pattaya Seven-Colored Kindergarten
Kindergarten Semitsvetik in Pattaya (official website) has close ties with the Nachalo Personal Development Center and the Russian Ballet School. It is attended by all the children of the staff of the Russian Embassy in Thailand. We think that this recommendation is the best and demonstrates a really high status of the educational institution.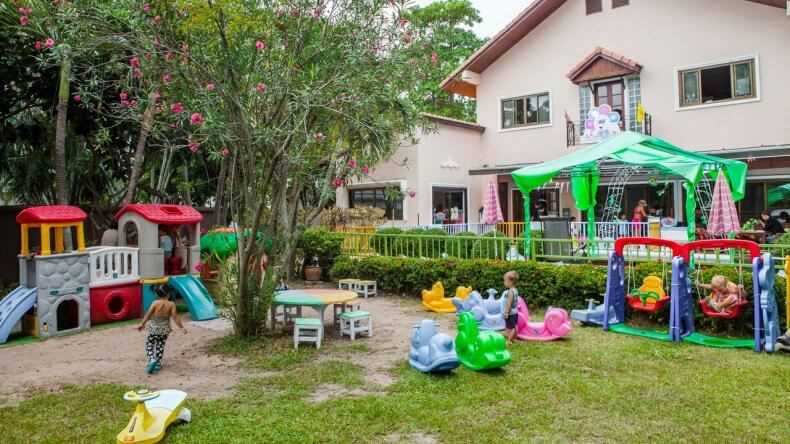 This Russian kindergarten in Pattaya is the only private foreign educational institution that has a state license. It is located in Jomtien district, Thappraya Road, Soi 15. The place is quite quiet, there are a lot of greenery and clean air. The area is landscaped with a few playgrounds with swings and slides. It is fenced in and monitored by video surveillance. In addition, the kindergarten has a large swimming pool.
The younger preschoolers are taught according to the Vasilieva program, approved by the Ministry of Education of the Russian Federation. This includes many points. For example, familiarization with the world around them, drawing, modeling, reading fairy tales, physical training, and learning poems and songs. Older preschoolers are taught according to the Kindergarten 2100 program, which prepares children for school. If parents wish, they can come to get acquainted with the conditions of stay, as well as the organization of activities and leisure activities for kids.
Kindergartens on a map of Pattaya
.
Use the arrow keys to navigate.
Cartographic data ©2022 Images ©2022 TerraMetrics
Map Data ©2022 Images ©2022 TerraMetrics
Use the arrow keys to navigate.
Map Data ©2022 Images ©2022 , CNES / Airbus, Landsat / Copernicus, Maxar Technologies
Map Data ©2022 Images ©2022 , CNES / Airbus, Landsat / Copernicus, Maxar Technologies