Accompanying tuk-tuks and other exotic means of transportation, buses in Thailand are some of the most common and popular modes of transport. The network of bus routes covers the entire country, from the Malaysian border in the south to Laos in the north. And they continue after the border crossing, giving travelers the opportunity to travel throughout Indochina for a relatively low price.
The only inconvenience – native transport does not always provide a luxurious level of comfort. But the more interesting and extreme the road adventure. Is not it? Even railway tickets can't always compete with bus fares, and not every Thai village has a railroad track. In this article we will tell you about the types of buses in Thailand and what you should pay attention to.
Tourist buses
When you purchase a tour to Thailand you may be offered a transfer from the airport to the chosen hotel and back. And it will always be a bus, owned by a private company. You can also buy a ticket for such transportation in the travel agency upon arrival at Phuket, Pattaya or Bangkok airports. The fare is a little more expensive than on the municipal routes. But you do not have to look for the bus station and drive next to chickens and even piglets. Do not forget about the language barrier. Using internet, you can find and book a tranfer in Thailand, neglecting the services of the travel agency. This option is more suitable for self-travelers.
Tourist buses in Thailand can be both the usual "wagon" format and minivans with a capacity of 5 or 7 passengers. If you have received a transfer by such transport, then beware – they have no luggage compartments. The "occupant's dream" suitcase may leave you on the road alone.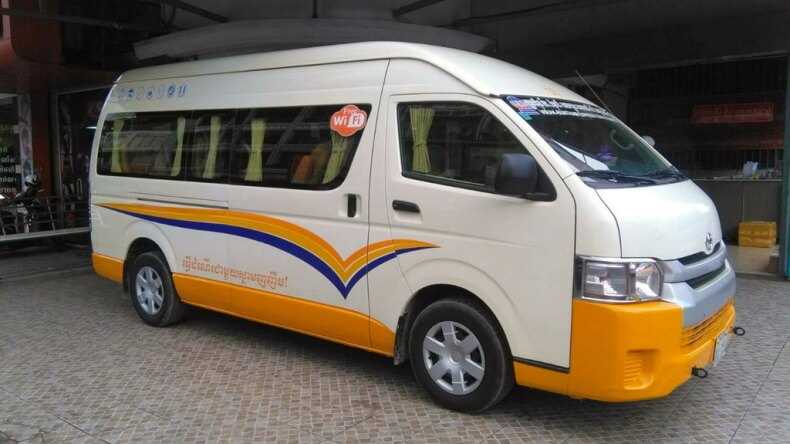 Another feature of traveling by minivan in Thailand is the absolute lack of punctuality in scheduling. If you plan several connecting flights, it is possible to "get caught". And in two ways: either by reaching the transfer point half a day before the next flight, or being late for it. The deviation for an hour or two (both plus and minus), force majeure en route, including the solution of your own problems, are quite common phenomena, because of which, for example, you can be late for the steam or longtail.
Rail buses
It is possible to get to any hut under a palm tree, and even more so to make a voyage between quite large cities, which are the centers of districts and other municipal units in Thailand. Usually Thai people board them using bus station platforms. But there are also intermediate stopping places where Thai buses can be "caught" simply by voting on the road. In this they are not much different from the intercity buses that ply the vast expanses of Russia. But most of them are owned by state companies. Therefore, travel buses in Thailand are reliable, safe and punctual.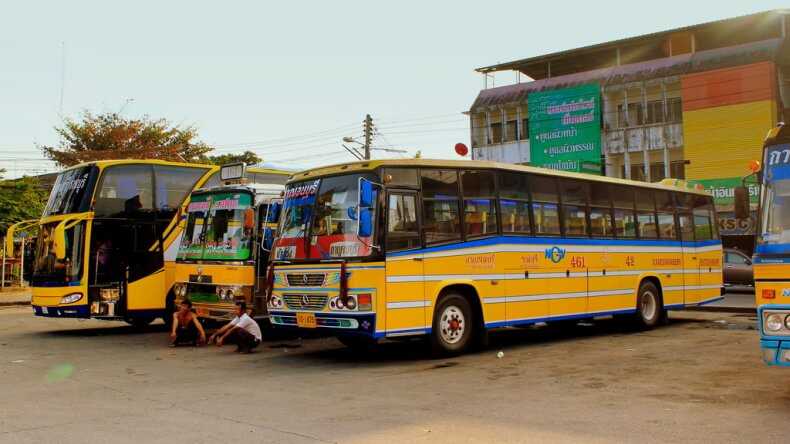 If you're not too picky, you're not intimidated by the language barrier and you want to see the country exactly as it is and not in the brochures, a shuttle bus trip is a great way to not only save money, but also have an unforgettable travel experience.
Classes of shuttle buses
The degree of extreme can be varied by choosing one of four classes of Thai buses, differing not only in the level of comfort, but also in the number of stops en route. By the way, did you know that the ticket for the most comfortable bus in Thailand will cost cheaper, not only the Thai 1st class train, but also an ordinary long-distance flight in Russia?
VIP class. VIP class flights stop exclusively at bus stations, passengers are allowed into the cabin with pre-sold tickets at the ticket offices. Their cabin has air conditioning and a toilet (read more about the features of Thai toilets). They almost do not differ from the tourist class on comfort, but they are a head above on punctuality and safety. This class is subdivided into VIP32 (32 seats, 8 rows of 4 seats) and VIP24 (24 seats, 8 rows of 3 seats). They differ from each other by the distance between the seats, the similarity is the presence of folding tables, delicious and dense lunches.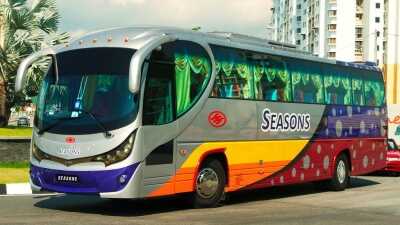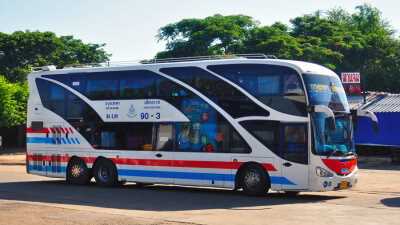 ---
First class. The first class buses are more leisurely. Their comfort level is almost the same, but they make more stops and sometimes don't stop at bus stations, so it's worth checking stop locations and schedules when buying a ticket. The number of seats ranges from 40-44 with 4 seats per row. On long routes, the price of the ticket includes lunch.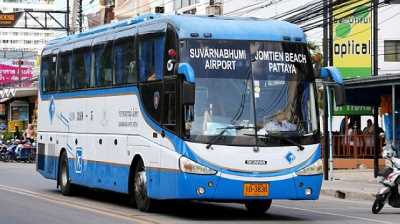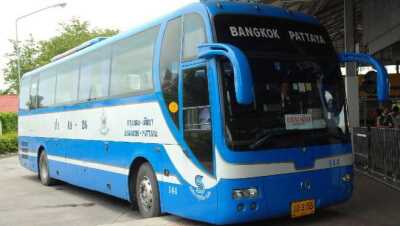 ---
Class 2. Traveling in this class, you can be neighborly with Thais taking poultry and small pets to the nearby market. There is often no air conditioning in the cabin. It stops at every palm tree and more or less conspicuous place on the road. Including for passengers' trips to the toilet. You can also buy a ticket from the driver. The number of seats on average is 49 (11 rows of 4 seats and 5 rear seats).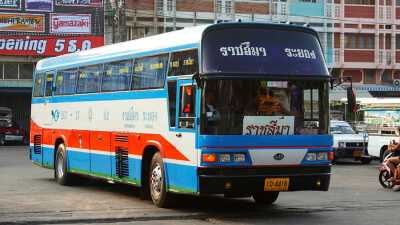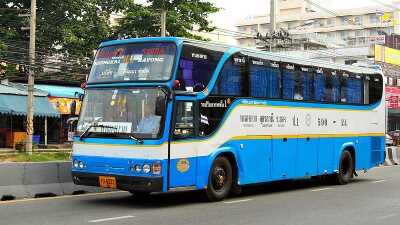 ---
3rd class. The most democratic (and at the same time cheapest) flights are in third class. Luggage is usually placed on the area near the back doors, and one row has 5 seats with little leg room, so you have to squeeze in a bit. This class travels, most often, short distances – from large population centers to small villages. These old buses, worn out by harsh conditions, can be seen lately mainly in poor provinces (Isan or Central Thailand).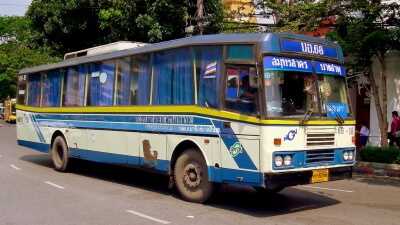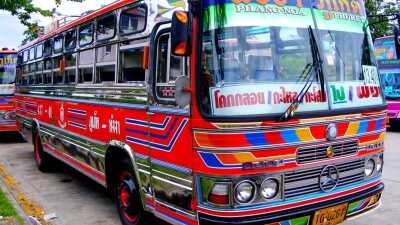 ---
Tips of buying tickets
How to buy a bus ticket in Thailand to get to your destination with security and comfort? There are no special tricks involved. You have to act as you would do it at home. The best option – buying tickets in advance (either through the Internet, or an additional visit to the ticket office).
Buy tickets online
Online purchase of bus tickets, as convenient as classic ticket offices, gives you the opportunity to select and book tickets from the comfort of your home, both on the websites of Thai carriers and on the common search site 12go.asia, which cooperates with the same. In the first case, you will have to enter the website of each carrier and deal with the Thai language (not all of them have English). In the second case, all the bus companies will be listed on one page. This will give you the opportunity to compare prices and choose the most acceptable option. It's possible to pay by bank card and through 7-Eleven stores.
To search for bus tickets in Thailand, use the form above. Enter the departure point, destination, travel date and click on "Find". A new window will open with the suggested options.
Purchase tickets at the box office
To have the freedom to choose free seats on the bus, it is enough to come to the bus station a day before the intended trip. This ensures that you buy VIP class. It is not always possible to understand what class the bus is on a particular trip. Not a bad criterion for sifting out the "second class" is the number of seats in the cabin. If there are 24 or 32, you are a VIP with comfortable seats, air conditioning, lunch and a toilet. Sometimes it happens that the transport company positions something resembling our PAZIK as VIP.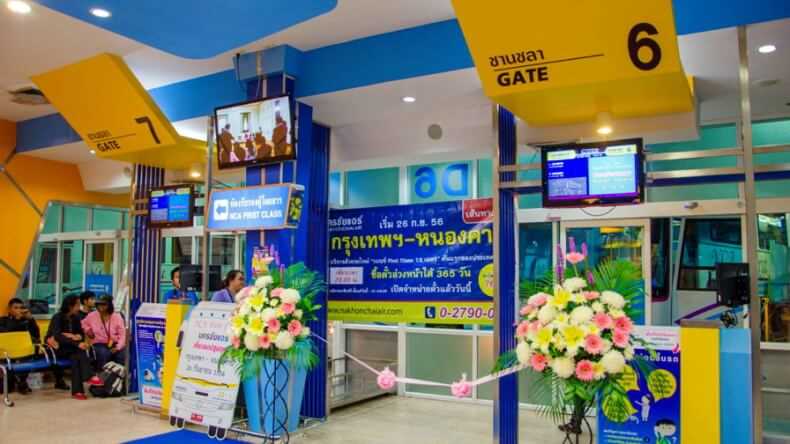 The Nakornchai Air bus terminal in Bangkok
The spontaneous trip is likely to be on a first-class bus. After all, Thais like to ride in comfort, too. On the day of departure, buy any ticket that is positioned by the company as VIP. Another hallmark of being offered a truncated trip in comfort is that there is no seat number on the ticket. Thai cashiers see that the farang in front of them and don't bother with verbal communication, they just turn the computer screen toward you and ask you to poke your finger. If this does not happen, it means that you travel first class and you can take any available seat in the cabin of a Thai bus that suits you.
Read More: