Lamai Beach on Koh Samui is the second most popular of all Samui beaches. It is located on the east coast, a little south of Chaweng Noi. The length of the sandy coastal strip is 4 kilometers. In its center young people and all who like active entertainment traditionally hang out. Pensioners and family couples with children also will not be difficult to find a place that has a peaceful rest. A set of water activities is quite traditional for Thailand. Mostly jet skis and towed "bananas". The sand is yellowish, quite large. Loungers belong to the hotels, so their number depends on seasonal occupancy. The center of the beach is more suitable for swimming, as there are a lot of underwater rocks and rock debris in the south and north.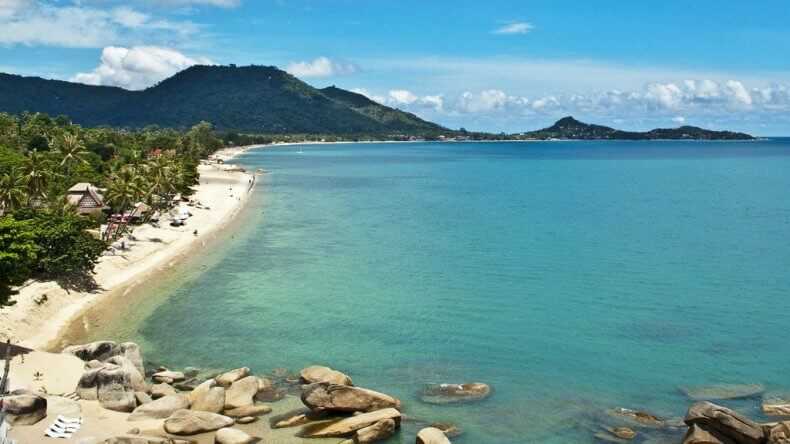 Lamai Beach on Koh Samui is not as rich in entertainment as Chaweng. However, you can't say it's the middle of nowhere and the backwoods of civilization. If you just want to sit in a seaside restaurant or bar, you will succeed and even like it. You should go to Chaweng only for the girls with low social responsibility. The whole nightlife of the beach revolves around a small street of the same name as the beach.
In general, Lamai is a transitional form from the lure-filled Chaweng to the wild beaches of the rest of the coast. The infrastructure is still diverse – there are massage parlors, stores and restaurants, but there are not so many people anymore and the atmosphere is more relaxed. Therefore, it is the best choice for those who value comfort and quiet. For example, couples, especially with children. Read more about samui shopping.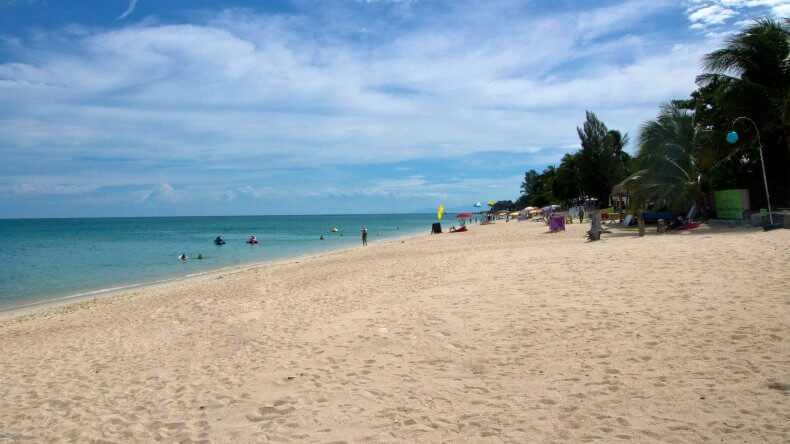 Lamai Beach can be roughly divided into three unequal parts, each attractive in its own way.
north
.
Perhaps the most deserted and therefore quietest part of the beach. Mostly because of the fact that all the restaurants bars and stores are a mile and a half away from it. If you are not too relaxed, then in 15 minutes you can go from relaxation to drive. The width of the sandy strip in different places varies from 5 to 30 meters. The sea in this place is very shallow, but it's difficult to enter it – interfered by rocks. At low tide, swimming is further complicated. In order not to hurt your feet, we recommend you to buy rubber beach slippers.
Central
.
From the north it is bounded by a small stream of unknown origin. The strip of sand stretches from it to the south for about a kilometer, to the Aloha Resort. The number of holidaymakers is very high, but because of the width – from 30 to 40 meters, it is not difficult to find a quiet place. It is only necessary to move away from the seaside restaurant or bar.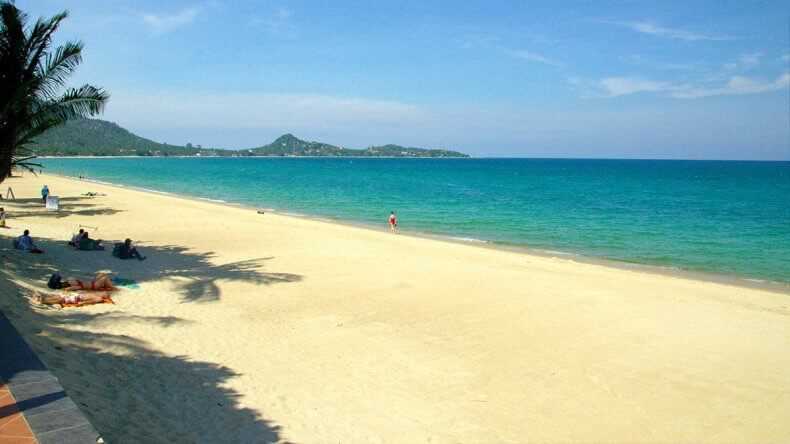 The entrance to the water is quite steep. After only five meters you can bounce off the bottom and swim. The bottom is clean, so you can swim without fear. The tide level and the tide does not differ from each other. In addition to the sun loungers, which are concentrated in front of the hotels, there are also sheds under which do Thai massage. The greatest number of water entertainment offerings.
Southern
.
It starts where the Bill Resort stands. It's about a kilometer long. If you're interested in what to see on Lamai Beach, this is the place to go. Because this is where the island landmark is located – Grandpa and Grandpa rocks. Next to them, there is an Orthodox church, as well as several small restaurants and stores. A little farther from the shore is Macro Hypermarket.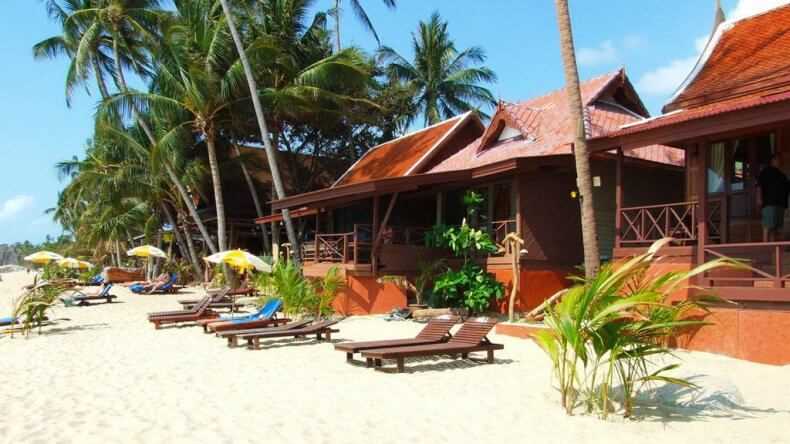 The strip of sand is 40 meters wide at first, then it begins to narrow. Sun loungers and umbrellas stand in front of each hotel. The entrance to the water is sharp, as in the central part. However, every now and then you come across stones. This place is open to the winds, so large waves are possible. In general it can be characterized as unsuitable for recreation with small children. It is not particularly interesting for party-goers either, as there is no nightlife scene nearby.
The best hotels near Lamai Beach on Samui
Full hotels near Lamai Beach on Koh Samui began to be built relatively recently. They have shifted the price point slightly above what it has traditionally been. Nevertheless, their appearance is a plus, since the choice has increased. Those who wish can even rent a separate villa. Find cheap deals – gesthouses, bungalows – all along the beach. But most of them in the northern part, so we recommend you start your search there. There are such rooms and in the alleys, adjacent to the main road, but they are becoming less and less – they do not withstand competition with hotels. You can find accommodation at popular hotel booking services – Hotellook.ru or RoomGuru.ru, and we have a selection of the best ones below:
Cheap

.

Cheap

.

Popular

.

With a sea view

.
How to get to Lamai Beach on Samui
.
From the island airport
Songteo near the passenger terminal you will not find. You can get from Samui Airport to Lamai by minivan, a budget option but with little luggage, or by taxi. In the latter case, it is better to book a car in advance, then you will be sure of the final price of the trip, which should not take more than 20 minutes. A transfer from Samui airport to Lamai companies costs 500-600 baht, and can be booked at KiwiTaxi.ru. We have described all the advantages of this method of travel in Thailand in this article.
From Nathon Pier
From Nathon Pier to Lamai, it takes half an hour to get across the island. If you don't have much luggage and no hotel is booked, it's best to take a private sungteo, which wait for every ferry to arrive.
In our opinion, it's best to take a taxi from Nathon. The advantage is that there are no stops along the way and you get there quickly. It is more comfortable – there is air conditioning. The price may seem high, but it's for the whole car, not per person. If you are traveling with children or with a lot of luggage, a cab becomes a non-alternative option.
If you catch a cab directly at the pier, the price of the trip will be from 1200 baht, as negotiated. There are no meters in the cars. So it is better to book a car in advance. Then you will be met and taken to the exact place for a fee indicated on the website. With an amateur bambila you can wander around the island for a long time, which is profitable for him, but not for you.
From Lipa Noi Pier

Lipa Noi Pier is often called Raja Ferry – after the transportation company that operates it. It specializes in transporting buses, so your getting on board such a ferry could be considered a major setback. At least if your budget is small. The only way to get from this pier to Lamai is by cab. Or on a scooter with a body – tuk-tuk. You can save money if you share the trip with other passengers. The trip to Lamai is about the same as the one from Nathon, about half an hour.
Lamai Beach on a map of Samui
Google (Roadmap)

Google (Satellite)

Google (Hybrid)

Google (Terrain)
Use the arrow keys to navigate.

Cartographic data © 2022

Cartographic data © 2022

Please use the arrow keys to navigate.

Cartographic data © 2022

Cartographic data © 2022

Read More: