Three hundred kilometers is the distance between Pattaya and Hua Hin, which are located on the opposite sides of the Gulf of Thailand. It takes no more than four hours to get there by any land transport, and by sea, cutting a corner, only two hours. Travelers have a variety of options available to them to get there: by taxi, bus or ferry. It is worth considering each of them in order to choose, based on your own preferences, the most affordable and non-tiring one.
Bus Pattaya – Hua Hin ฿ 510 6 h.
→ VIP 24 11:00

← VIP 24 11:00 a.m.
Taxi Pattaya – Hua Hin ฿ 3,630-5,390 1 hr. 40m.
→ Economy

→Comfort

.

→ SUV 4 seats

→→VIP Minibus 9 seats

← Economy

.

← Comfort

.

← SUV 4 seats

.

← VIP Minibus 9 seats
Pattaya-Hua Hin ferry ฿ 1,250 2 hrs
→ Speed Ferry 13:00

← Speed Ferry 15:45, 16:00
Bus or minivan
.
It's preferable to get from point A to B without a transfer. Except that the "direct" Pattaya-Hua Hin bus only runs once a day. It departs from North Bus Station at 11:00. The whole trip will take about five hours. It is scheduled to arrive in Hua Hin, at the central bus station, at 4:30 pm. If there is no traffic jam on the road, you will arrive faster. All in all, as luck would have it.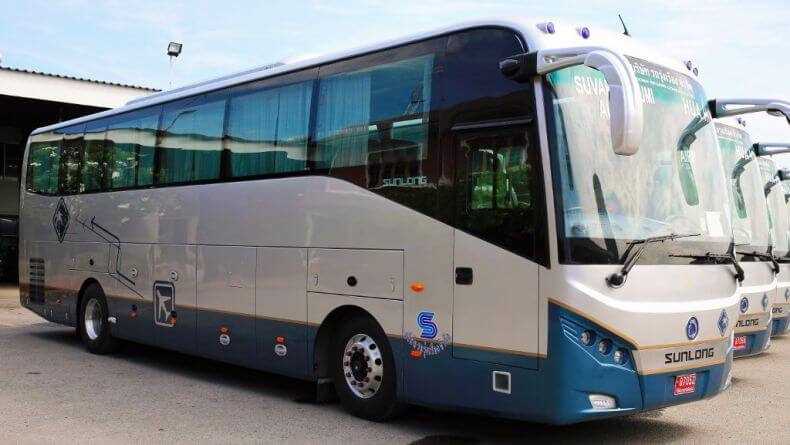 To buy a bus ticket, go to window #3 of Pattaya Bus Station and ask for a Bell Travel flight. Its fleet consists of large, comfortable buses with a large bulk compartment and air conditioning. The ticket to Hua Hin costs from 500 baht. It is best if you take care of booking a ticket in advance. Otherwise you may not have enough room. You can do it online, at 12Go.Asia.
.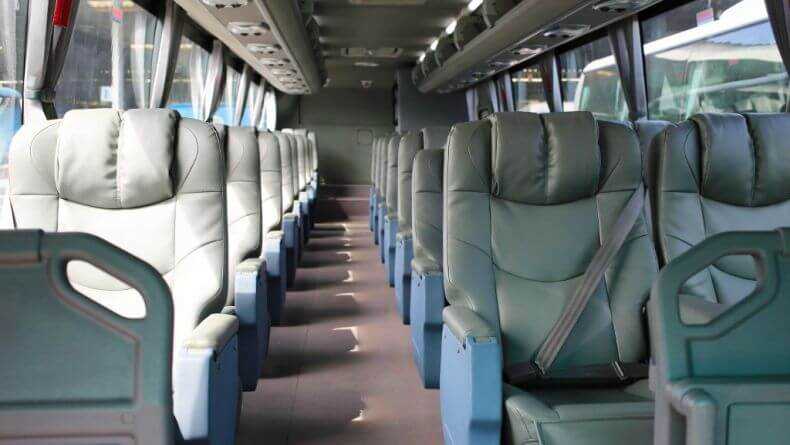 For those who want to get to Hua Hin by public transportation urgently and don't have time to catch a bus, no problem – minivans leave from Pattaya Thai Bus Station several times a day and arrive at Sa Song Rd station in Hua Hin in 4 hours and cost from 300 baht. The main annoyance of traveling by minivan lies in the lack of a luggage compartment. With a large suitcase you either just won't leave, or you'll pay as you would for a full seat.
Ferry
.
The Pattaya – Hua Hin ferry began running in the early days of 2017. But those who have been to Pattaya just after the millennium remember that steamboats used to run between these cities. Then those voyages were for some reason eliminated for a dozen years.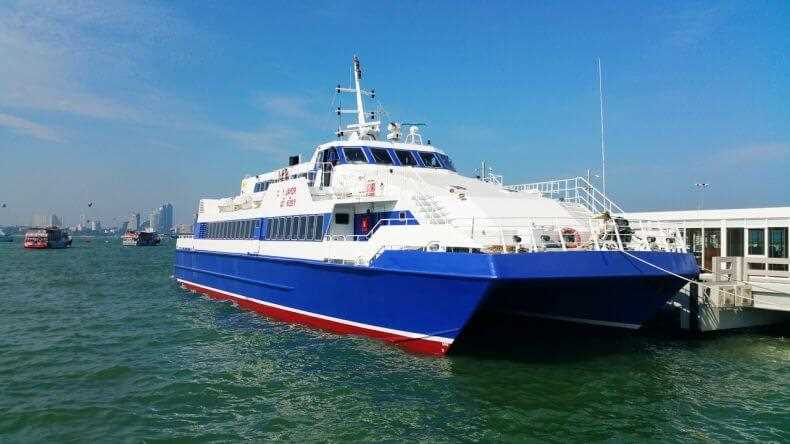 The ferry crossing is much shorter – the steamboat runs without following the shoreline. So it only takes two hours to get to Hua Hin. But the cost of this journey is equal to a plane flight – from 1250 baht. In addition, you should take into account the peculiarities of this type of travel, because it is accompanied by a permanent rocking.
In addition, it is worth considering the peculiarities of this type of travel, because it is accompanied by a permanent rocking.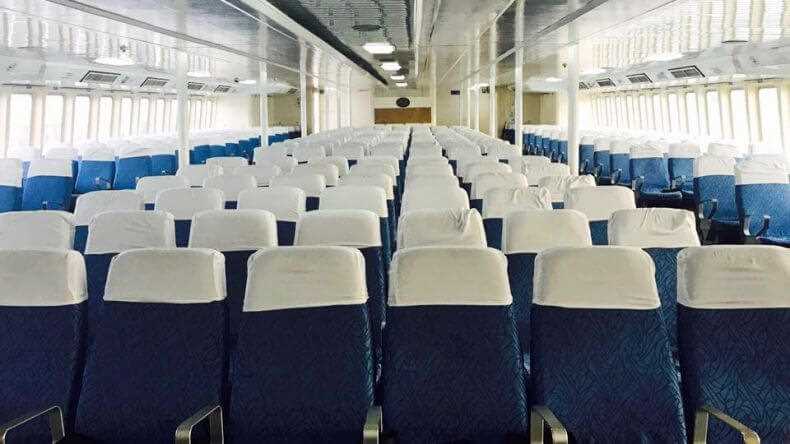 You can buy a ticket for the Pattaya-Hua Hin ferry either at the pier itself or at the 12Go.Asia already mentioned. There is only one flight per day. The departure point from Pattaya is Bali Hai Pier. The time of departure is 10 am. This pier is at the western end of Walkin Street. It is familiar to anyone who goes swimming on Ko Lan Island.
In Hua Hin, the ferry docks at Saphan Pla wharf at the foot of Mount Takiab. This is the southern part of the city. Next to it you will always find a sunteo that will take you to your hotel for 15-20 baht.
Ferry schedules are not too strictly enforced. The time of departure can also be affected by weather conditions and the technical condition of the ferry.
Taxi
.
This mode of transport everywhere and always has been the most expensive. The cost of its services is directly proportional to the distance. Transfer Pattaya – Hua Hin on a small car (3-4 passengers) will cost you from 3500 to 4 thousand baht per car. The trip will take you about the same time as if you had taken a tour bus.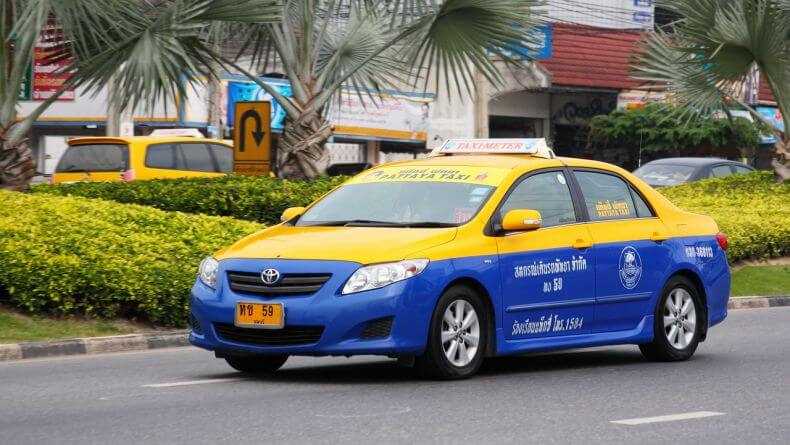 If you decide to take a local cab from Pattaya to Hua Hin, pay attention to the street signs. For example: Pattaya – Hua Hin Taxi. They are posted by transportation agencies. The disadvantage of this method is that the final cost will be known only after the trip. But it can be found out in advance if you use the sites 12Go.Asia or KiwiTaxi.ru. There you can also choose the brand of the car – for a large company is cheaper to rent a minivan, as well as order special options. For example, a child safety seat.
Rented-or-your-car
.
Renting a car will give you extra freedom of movement, but you will have to keep track of the road yourself. There are two routes from Pattaya to Hua Hin, first No. 7 and after the The Chao Phraya River crossing near Sathon town, No. 4. The distance is 332 kilometers.
With an average fuel consumption of 10 liters per hundred and a gasoline price of 30 baht, you will spend no more than 120 baht one way. Note that there are two types of fuel in Thailand: GASOHOL, a mixture of gasoline and ethanol, and GASOLIN, actually gasoline. The latter is much rarer than the former, so you should look at the markings on the gas tank lid or near the driver's door. Despite the fact that the natives pour everything into the tank, no one can give you a guarantee that the car with a gasoline engine will not fail somewhere in the unknown expanses. The peculiarity of such a trip is left-hand traffic. The license must be international, or Thai. Read more about gasoline in Thailand.
From our practical experience, we advise you to rent a car through Rentalcars.com. It is not only convenient and safe, but also much cheaper than parking anywhere in Pattaya.
As you can see, getting from Pattaya to Hua Hin is no big deal. We won't insist on any one way. The choice is yours.
Pattaya – Hua Hin route on map of Thailand
.