Let's talk about how to find a job in Thailand after moving to Thailand for permanent residence. This topic is quite popular among our countrymen, who are trying to earn a life in paradise.
To find a job in Thailand for a certain type of specialty, you must be a specialist, at least a beginner. So, even before you come to Thailand, decide what you will work and if you are not good at something or you are not sure of yourself, the trip is better to cancel. Because you won't have time to study in Thailand, you have to look for a job right away, though… it will depend on your financial capabilities.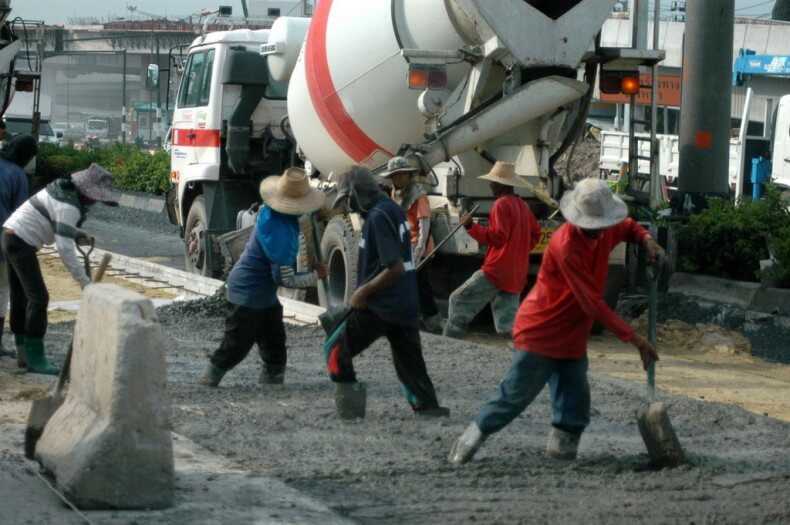 One of the banned professions, anyway, hardly anyone would work that way 🙂
What-specialties-can-you-work for?
Now all you have to do is decide on employment in Thailand. However, because of list of prohibited occupations for foreigners in Thailand, finding a legal job locally is not so easy, you have to search a lot and often get nervous.
Personally, I'm both for and against this list. Against for obvious reasons, and for… take Russia, for example, where because of migrants from Central Asia, some locals can't find a job. Unlike our president, the King of Thailand cares about his people.
There are four groups of people who work:
remote or freelance
for an employer in their place of residence;
have their own business in Thailand;</li
don't work at all, there are some. 🙂
Now more about each group of people working in the country.
Remote work and freelance work in Thailand
Working as a freelancer online is slightly different from working remotely – remote work tends to be for an employer, while freelancers are self-employed. There are many companies that offer remote work, they don't care where you are, in Thailand or Antarctica. It's cheaper for them to find an employee remotely than to have them in their office. There can also be various Skype consultations.
Qualitative training for working remotely online is offered by the wonderful training "Work at Home 2″ and its authors, Alexander Redkin and Igor Poltavtsev.
Freelancers can be, people involved in design (like Photoshop), developing and maintaining websites, earning from affiliate programs, as well as rewriting, copywriting and more. You can work as a copywriter in Thailand as on the article exchanges, for example, How to earn on Adwego") or the exchange for working-zilla-birzha-frilansa, as well as other more profitable ways, for example, by posting their services on the message boards.

You can also, for example, create your own website or blog about tourism, promote it and earn money by advertising travel agencies or posting links to third-party thematic resources.
Tip! If you've decided to work as a freelancer and create your own website or group in social networks and earn an average of 40 000 rubles per month, I advise you to read course "SMM-specialist". SMM – a new area of income, based on promotion in social networks.
Hired work in Thailand
When working locally for an employer, don't forget the list of prohibited occupations and be prepared to work in a Thai team. However, first, pay attention to what the average salaries of Thais are, and then draw conclusions.
1. Work-in-model
If you are beautiful, pleasant, charismatic, and have a model-like appearance, then you may very well get a model job in Thailand. But approach this question with extreme caution, because instead of the podium you may find yourself in a brothel. Here is link to one of the proven modeling agencies in Thailand.
2. Work in hotels
You can also get a job at the reception in hotels, for this you need to know English at least, and better still Thai.
3. Teaching job
It's also an open road to work English teacher in Thailand, and pedagogical education is not important here, the main thing is that you have an excellent knowledge of the language and were like a European. You can try to get a job at one of the Russian schools in Pattaya.
4. A job as a salesperson
In Thailand, you can also get a job as a salesperson in the tourist industry, which means jobs in a latex store, a pharmacy (such as pharmacies in Pattaya), selling crocodile skin and other stuff. That is directly in the places where they take tourists. In this area the schedule is very hard, you will have only one day off, not necessarily on Sunday. But often in such places you are formalized, you get a work visa, a good salary, but in this case, you have to open an account in a Thai bank.
5. Working as a photographer
Photographer jobs in Thailand is so popular, there is so much competition that it won't be easy for you to get promoted. You can work for a travel company, or for yourself. The profit from this work is pretty good, but it takes a lot of time. As a startup, you can try earning from photos with smartphone apps.
6. Guide work
The most popular income among tourists is considered guide work in Thailand. It is hard and nerve-racking work, you have to work with Russian tourists, among whom there are often inadequate ones. They simply do not have a schedule; you have to work a lot and at different times, even at night, because most planes with Russian tourists arrive mostly at this time. A tour guide is a banned specialty among migrants. The police know this, so they regularly conduct raids. By the way, about how our compatriots behave, read the article "How Russian tourists behave in Thailand".

If you get caught working illegally, you have three ways:
you'll be deported and you'll never be able to enter Thailand again;
you'll be arrested for a few days, then pay a ransom for release;
at best, you can negotiate with the police on the spot.
7. Mass work
In Thailand they often shoot all kinds of commercials and movies with famous actors. Therefore, for the filming of movies often have to organize crowd scenes for greater saturation of the plot. Most often filmmakers need people of European appearance, and sometimes – Thai. Movies in Thailand are temporary in nature and the work is not permanent, but you can earn a decent income, sometimes averaging about 2000 baht.
How to open your own business in Thailand
I'll say in short, that open your own business in Thailand can only be in a share with a Thai. I do not know, maybe the Russians somehow learned how to circumvent this Thai law, otherwise you have to look for a Thai. And there are plenty of restaurants, cafes opened by migrants. Someone opens kindergartens in Thailand (there are a lot of them in Russian Village in Pattaya) for Russian children, opens a business of cooking: baking cakes, dumplings, and more.
By opening your own business, you have a chance to Get a Thai visa for 1 year, and buy permit residency in Thailand! By the way, keep in mind, according to the list of prohibited occupations, street vending for foreigners is prohibited.
If you don't know what kind of business to start, we recommend reading ideas for starting a business in Thailand.
Opening a business, thanks to Thai law, is easier than in Russia. Racketeering among the local population is almost non-existent, it is mainly engaged in Russian Mafia in Thailand. There was one case where the Russians kidnapped a businessman in Samui and extorted a million baht, but did not get the money, and ended up behind bars.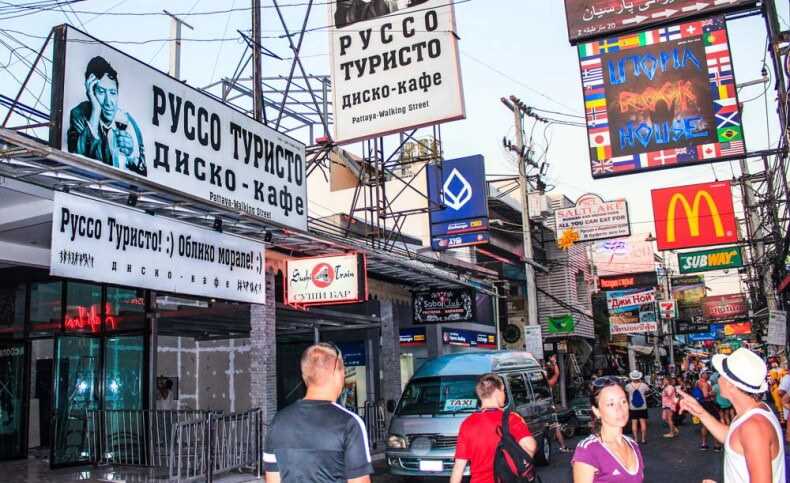 Example of Russian business in Thailand (source: piki-trip.ru)
How to live in Thailand and not work
Some migrants in their home countries have their own apartment or (and) room, and not just one, but two or more. So, if you move to Thailand, previously surrendering their housing, you can not work at all. Although it depends on the rental income.
Life example. One man living in Thailand, rents two apartments in Moscow and has from them 60 thousand rubles per month, this money is more than enough to live in Thailand, as life there is cheaper than in Russia. According to him, he is already tired of doing nothing and has taken up making figurines out of wood.
In the meantime, he has been working on his own business.
Unfortunately, not everyone is so lucky. But anyway, renting at least a room for 10 thousand rubles a month, you'll have at least some support to live in Thailand. And with the search for a job you can not be in too much of a hurry.
Nearly everyone is lucky.
That's all, subscribe to new articles and leave comments about the job, because I haven't posted all the options. Maybe you have some ideas for making money, or know someone who can help you get a job in Thailand… get in touch!
Read More: